Press release
Welsh devolution: more powers for Wales
David Cameron and Nick Clegg have announced new devolved powers for Wales on the economy, jobs and growth under the St David's Day Agreement.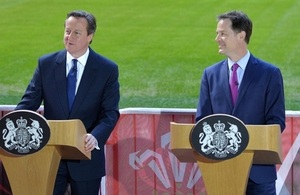 The Prime Minister and the Deputy Prime Minister are in Wales today (Friday) to announce a package of new commitments on the way forward for Welsh devolution.
The command paper published today (Friday) represents a step change for Wales and a significant constitutional moment for the UK as a whole.
The details fulfil the government's commitment to deliver cross-party consensus on further devolution to Wales by St David's Day.
The St David's Day Agreement will transfer new powers to Wales, enabling the Welsh Assembly to move forward from constitutional debate and focus on delivering economic growth, jobs and prosperity for people in Wales.
Speaking ahead of this historic agreement, the Prime Minister said:
This is the latest step in finding lasting settlements across the country to make our United Kingdom stronger and fairer. We are delivering on devolution in every part of the UK.

We want to deliver new powers to Wales so that more decisions are taken closer to the people and give greater responsibility to the Welsh Assembly.

That means those who spend taxpayers' money must be more responsible for raising it.

This is devolution with a purpose, working for Wales.
The Deputy Prime Minister said:
I've been banging the drum for years now for greater devolution for Wales, and the rest of the United Kingdom. So I am delighted to be coming to Wales to announce this new constitutional settlement, another landmark on the journey of decentralisation. Putting real power into the hands of the Welsh people is a vital part of creating a stronger economy in a fairer society for everyone.
The Secretary of State for Wales Stephen Crabb announced the Wales devolution programme on 17 November 2014. Mr Crabb led a series of meetings with Westminster leaders from the main political parties in Wales and those in the National Assembly to secure today's agreement on the best way forward for Welsh devolution.
The Secretary of State for Wales Stephen Crabb said:
This is a strong package that creates the foundations for a stronger, fairer, lasting devolution settlement for Wales. These new powers create an important opportunity for Wales, they are powers with a purpose.

As a UK government we believe in rebalancing the economy to enable wealth to be created more fairly and evenly across the whole country. This St David's Day package provides a toolkit to help strengthen the economy here in Wales too.
Over the past 6 months the UK government has led major developments in devolution in the United Kingdom, including the Scottish referendum; Smith Commission report; the Devolution Cabinet Committee and work on 'the English Question'; the Wales Act, and the commitment to devolve corporation tax to Northern Ireland.
Published 27 February 2015