Welcome for UK contribution for Kenya witness relocation fund
The International Criminal Court is helping to relocate witnesses who may be at risk as a result of investigations into post-election violence in 2007-2008.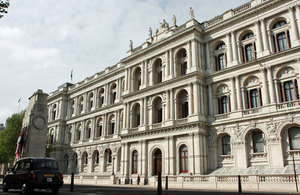 The UK has donated £200,000.
UK Ambassador to the Netherlands, Paul Arkwright said: "The UK supports the Court's work, with the Kenyan Government, to promote justice for the many victims of the post-election violence.
"We welcome the Kenyan Government's cooperation with the Court on this case. The UK agrees with the ICC Chief Prosecutor that Kenya, with the Court's assistance, has an opportunity to restore its image and lead the way globally on approaches to the restoration of justice and challenging impunity.
This funding underlines the UK's commitment to a successful investigation in Kenya and the importance of protecting those at risk.
The Court's witness protection programme should help encourage witnesses to be more confident in contributing to the investigation, assisting the goal of accountability that the victims and others have been campaigning for. We remain concerned about continuing reports of witness intimidation and official interference. Those who attempt to subvert the search for justice should be aware that they also could find themselves accountable for their actions in The Hague."
Published 29 November 2010