"We will not forget those imprisoned in Iran."
The Foreign Secretary gave the keynote speech at the 'Imprisoned in Iran' event organised by The Times newspaper, in association with human rights NGOs.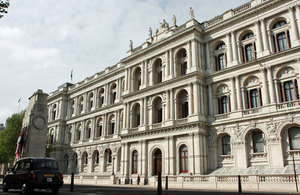 At the event on 13 September, the Foreign Secretary met Iranian human rights defenders who have had to flee Iran, especially in the last two years, and British and international civil society groups and journalists who have been campaigning to highlight human rights abuses in Iran.
Speaking at the event, the Foreign Secretary paid tribute to those working to improve the human rights situation in Iran. He underscored the UK's commitment to human rights at the 'irreducible core' of our foreign policy and his intention to 'shine a spotlight' on Iran's human rights record.
The Foreign Secretary outlined the role of the UK and other governments in working alongside media and civil society to promote human rights in Iran. He said 'it is up to Iranians to determine the future of their country - but Britain will be resolute in standing up for their human rights… We will not forget those imprisoned in Iran'.
Read the full text of the speech
Published 13 September 2011