Government response
Water metering: response to an article in the Telegraph
Reports that there will be 'compulsory water meters for millions of householders' are false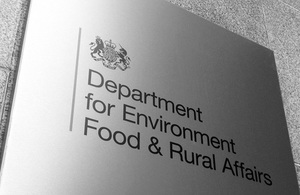 The myth
The Telegraph has claimed that there will be 'compulsory water meters for millions of householders' following a recently published report into water stressed areas.
The truth
This week we removed several water companies from the list of companies covering severely water stressed areas first published in 2007. No new areas have been added, so nothing has changed for the vast majority of water companies and water users.
Any suggestion that this has made it more likely that customers will face compulsory water metering is not true.
No water company is required to introduce compulsory metering, even if it is in an area of severe water stress.
Metering is just one of many ways water companies can manage water resources in their area.
The government is doing more than ever before to tackle water prices, securing a £50 rebate off the exceptionally high bills of those in the south west, bringing in social tariffs for the first time and, through our water bill, bringing in competition for all non-household users.
Published 10 August 2013