Press release
Waste site owners ordered to clear site within 18 months
The 2 former owners of a waste transfer business in St Dennis, Cornwall, have been ordered to clear the site within 18 months after admitting a series of permit breaches.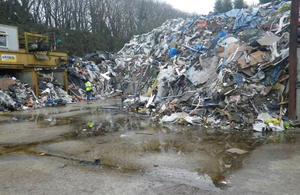 David and Donna Shrigley were the directors of DRS Demolition National Ltd at Domellick Manor, St Dennis, St Austell, before it went into liquidation. David Shrigley was also ordered to pay a total of £6,052 in fines and costs, and Donna Shrigley £4,234 after pleading guilty to 3 offences.
The case was brought by the Environment Agency.
Bodmin Magistrates heard the quantity of waste still at the site presented a considerable fire and pollution risk. The waste site, described as an 'eyesore', is near both a Site of Special Scientific Interest and a Special Area of Conservation at the Goss and Tregoss moors and is owned personally by Mr and Mrs Shrigley.
Magistrates decided that David Shrigley, formally of Carthew Farm, St Dennis, had been reckless in his offending and Donna Shrigley, of Green Lane, Morpeth, Northumberland, negligent.
It was admitted that between 29 April 2014 and 11 May 2015, they breached an environmental permit by depolluting vehicles, illegally storing and handling waste, including plasterboard, wood, green waste and trommel fines.
They also admitted failing to comply with an enforcement notice on 22 April 2015, which required the reduction of waste on the site by 500 tonnes, and on 11 December 2015, knowingly permitting the carrying on of a waste operation without the benefit of an environmental permit.
A spokesman for the Environment Agency said:
The company had been continuing to accept waste onto the site which generated income, but failed to process and transfer it off site which reduced expenditure, undermined legitimate business and posed a risk to the environment. The company went into liquidation and the site remains uncleared.
Following permit breaches in April and August 2014, the company had agreed to submit to a voluntary improvement plan. But it failed to comply with this, as well as an enforcement notice to reduce the waste destined for landfill, and by April 2015 the quantity had increased. They also failed to comply with a further notice to remove all waste by 9 December 2015.
The magistrates issued a Regulation 44 order which orders the former owners to clear the site within 18 months. Failure to comply with this notice is contempt of court.
Ends
Published 20 April 2016