Press release
Waste illegally dumped and burned near protected area in Teesside
A Teesside man illegally dumped and burned waste on a site on the Tees Estuary next to a protected area noted for its wetland bird habitat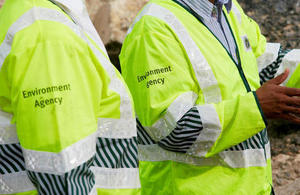 A Teesside man illegally dumped and burned waste on a site on the Tees Estuary next to a protected area noted for its wetland bird habitat, a court has heard.
The Environment Agency warned Jamie Thomas Rose, 30, that he must stop running the illegal operation but he continued to offend for a further five months.
Following an Environment Agency investigation Rose, of Fulbeck Road in Middlesbrough, appeared at Teesside Magistrates Court on Thursday, May 21, for sentence after previously pleading guilty to two charges against environmental permitting regulations.
He was sentenced to a 12-month community order with a requirement to carry out 100 hours of unpaid work, and with six-month probation supervision. He was also ordered to pay £2,526.25 costs and a £60 victim surcharge.
Acting on behalf of the Environment Agency, solicitor Chris Bunting told the court Rose deposited and burned waste at the site at Hope Street Industrial Estate in Haverton Hill, Stockton, between January and August 2014.
On January 15 officers from the Environment Agency first visited the site and saw piles of mixed household waste with further enquiries revealing there was neither an environmental permit nor any exemptions in place for the site.
Further visits were made where evidence of further waste being left and burned was found.
Rose was interviewed and admitted operating the business without a permit. He was given clear advice and guidance on what he needed to do to legitimise his operation.
In July it was found some waste had been cleared, but during subsequent visits to the site there was evidence that waste was still being dumped and burned without a permit in place and that the business was continuing to run.
The site is next to Teesmouth and Cleveland Coast Special Protection Area which protects rare and vulnerable birds, including regularly migrating species.
The Environment Agency's Dave Edwardson said:
It's vital anyone wanting to deposit, store and dispose of waste has the relevant permits in place so we can ensure any risks to the environment are closely monitored and controlled.

Rose was warned that he needed a permit for his activities but continued to run his operation regardless.

Waste crime has a detrimental impact on local communities and the environment and in this case the site was right next to a protected area and could have had implications on the wildlife.

Illegal operations such as this can also undermine legitimate businesses and I'd urge anyone with information about waste crime in their area to make sure it's reported.
Anyone who has information about waste crimes can call Crimestoppers on 0800 555 111.
Published 22 May 2015