Warwickshire flag to fly at Department for Communities and Local Government
The flag representing the historic county of Warwickshire has been hoisted outside the department's offices.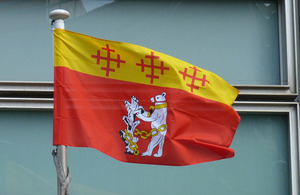 To celebrate the important place counties play in the nation's cultural heritage Secretary of State Eric Pickles has asked that English county standards be flown alongside the Union Flag outside DCLG's Eland House headquarters in Victoria.
Warwickshire is rich with history, and has played an important role during England's timeline - be this during the age of the Roman Empire, the English Civil War or in the Gunpowder Plot of 1605.
Probably the most famous Warwickshire person of all, William Shakespeare was born in Stratford-upon-Avon in 1564, and is now regarded as a literary genius whose creative achievement has never been surpassed in any age.
In the sporting sphere the modern Rugby rules and practice, although developed by a number of institutions across Great Britain, first originated in Rugby School in Rugby, Warwickshire.
The flag of Warwickshire depicts a bear and ragged staff. The origins of these emblems are lost in the distant past, but have been associated with the earls of Warwick since at least as early as the 14th century. William Dugdale, writing in the 1650s, said that Arthgal, an Earl of Warwick at the time of King Arthur, thought that his name came from the Welsh 'artos' or bear. He also suggested that the ragged staff was chosen because Morvidus, Earl of Warwick, killed a giant with the broken branch of a tree. Of course, neither of these earls really existed and Dugdale was just recalling medieval legends. The bear was a common heraldic device and implied boldness and courage.
Flags are being flown for a week at a time in alphabetical order or - in cases such as Cornwall and Yorkshire - to coincide with particular county days.
Eric Pickles said:
England's counties continue to form an important part of our cultural and local identity in this country and many people remain deeply attached to their home county. This sense of pride and shared identity is one of the things that binds communities together.

The historic English counties are 1 of the oldest forms of local government in western Europe. Their roots run deep. And no amount of administrative reshuffling can delete these longstanding and cherished local identities.
Councillor Alan Farnell, Leader of Warwickshire County Council, said:
We are fortunate to live in such a beautiful part of the country with many picturesque towns and villages including Shakespeare's Stratford, historic Warwick and its fine castle, and Rugby, where sport famously originated.

Warwickshire has a rich history and we are justly proud of our county and its emblem, the bear and ragged staff, which dates back to the 14th century. I am actually in London this week on county council business and will hopefully get chance to see the ceremonial flag flying outside Whitehall for myself.
Lord Lieutenant Martin Dunne added:
It is a tremendous honour to have our standard flown as part of the Department for Communities' celebration of our national culture and heritage. The Warwickshire bear is the symbol which helps give us a sense of identity and bonds our communities together, so we are thrilled that it will be in the skies of the capital alongside the Union Flag.
Further information
The Warwickshire flag has been kindly loaned by Association of British Counties at no charge.
Photographs of the county flags will be added to the DCLG Flickr channel
Published 11 July 2011