Press release
Warning on liferafts containing unauthorised medical kits
The Medicines and Healthcare products Regulatory Agency (MHRA) and Maritime & Coastguard Agency (MCA) are asking suppliers of inflatable liferafts in the UK to check the origin of their liferafts.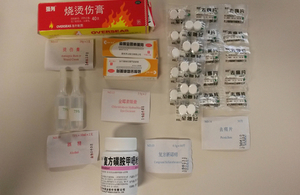 This is because medical kits containing unauthorised imported medicines and medical devices may have been supplied inside inflatable liferafts to ships, fishing vessels, small commercial vessels and pleasure boats. MCA has issued a safety bulletin on this issue.
Suppliers of imported liferafts are asked to open at least one liferaft from each non-UK liferaft supplier they deal with and check that the medical kit only contains medicine and medical devices authorised for use in the UK.
This follows an MHRA inspection which found that some UK liferaft service stations, manufacturers and distributors of liferafts had been importing and supplying inflatable liferafts with medical kits that contain medicines and medical devices which originated from China and are not authorised for use in the UK. If the kit contains unauthorised medicines or medical devices it should be disposed of by an approved pharmaceutical waste contractor.
Owners of liferafts who have any doubt as to the compliance of the medical kits within their liferafts should contact the liferaft supplier or service station who serviced, sold or rented the liferaft to them for advice.
Gerald Heddell, MHRA Director of Inspection, Enforcement and Standards said:
It is important that the medical kits contained in these liferafts only contain medicines and medical devices authorised for use in the UK. Whilst they are only likely to be taken in the rare event of a liferaft being deployed in an emergency it is important they are of the right quality and standards.

If the kit does not contain authorised medicines or medical devices they should be returned to the supplier for disposal at an approved pharmaceutical waste disposal site.

Anyone who has used medicines or medical devices originating from a medical kit on an inflatable liferaft and who is concerned should contact their healthcare professional for advice.
Background
Medicines supplied for use within the UK must have been approved either by MHRA or the European Medicines Agency.

MHRA is responsible for regulating all medicines and medical devices in the UK by ensuring they work and are acceptably safe. All our work is underpinned by robust and fact-based judgements to ensure that the benefits justify any risks. MHRA is a centre of the Medicines and Healthcare products Regulatory Agency which also includes the National Institute for Biological Standards and Control (NIBSC) and the Clinical Practice Research Datalink (CPRD). MHRA is an executive agency of the Department of Health.
Media enquiries
News centre
MHRA
10 South Colonnade
London
E14 4PU
Email newscentre@mhra.gov.uk
During office hours: 020 3080 7651 (08:30 - 17:00)
Out of office hours: 07770 446 189 (17:00 - 08:30)
Office hours are Monday to Friday, 8:30am to 5pm. For real-time updates including the latest press releases and news statements, see our Twitter channel at https://www.twitter.com/mhrapress
Published 27 April 2016