Press release
Warning after nearly 200 fish deaths on the Devon river
Home owners are being reminded of the dangers of pouring cleaning fluids and other toxic chemicals down drains after a pollution incident.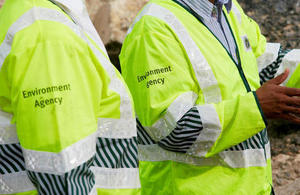 The Environment Agency was alerted by a member of the public who reported seeing a number of dead fish in a river at Rydon just outside of Holsworthy. Casualties included brown trout, bullhead, lamprey and elvers (baby eels). The pollution was traced to a surface water outfall from a nearby housing estate.
"It soon became apparent that whatever killed these fish had come from a nearby housing estate via a surface water drain. It might have been a person using a chemical to clean their patio or drive or someone finding an old can of something in their garage and disposing of it down a drain,' said John Cossens for the Environment Agency.
"We would urge people to act responsibly and take care when using or disposing of chemicals that are toxic to fish and other wildlife. Importantly, don't assume all drains go to a foul sewer. Often they are part of a surface water system and anything you put down them can end up in a local river," said John Cossens.
The River Deer is a tributary of the River Tamar. The pollution near Rydon affected approximately a 1 km stretch of the river. Whatever killed the fish also wiped out the tiny creatures (invertebrates) upon which the fish and other river life depend. This suggests the pollutant was highly toxic.
The Environment Agency is awaiting results of samples taken from the river and from some of the dead fish that have been sent for laboratory analysis.
The Environment Agency will shortly be leafleting residents of Rydon reminding them of their responsibilities when using and disposing of potentially toxic chemicals.
Members of the public can report pollution incidents by calling a free 24-hour Environment Agency hotline 0800 80 70 60. It helps if people report incidents promptly as this makes it easier to trace and identify a pollution source.
For media enquiries from the national and specialist media, call the national media team on 020 3263 8205 during office hours, or email us at pressoffice@environment-agency.gov.uk.
For urgent media enquiries out of hours call the duty press officer on 07798 882092.
Published 26 March 2014