Press release
Warming up the lives of millions – latest official Winter Fuel Payment statistics
Latest official figures published on Winter Fuel Payments made last winter.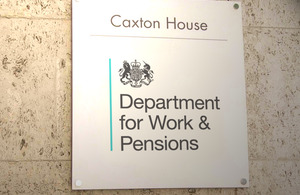 Official figures published today (11 September 2013) reveal that last winter 12.5 million older people across Britain received the Winter Fuel Payment.
Between November 2012 and May 2013, more than 9 million households benefited from the allowance, which is £200 for households with someone over women's State Pension age and £300 for those with someone aged 80 and over. The universal benefit is designed as a valuable contribution to help older people pay their fuel bills in cold weather.
Minister for Pensions Steve Webb said:
Winter Fuel Payments help to keep many thousands of vulnerable older people warm during the depths of winter, and reassure them that they can turn the heating up a notch and not have to worry unnecessarily about being able to pay the bill.
In 2012-13, it is estimated that the government will have spent about £2.15 billion in Winter Fuel Payments – with 95% of payments made before Christmas.
Meanwhile, new eligibility criteria is being introduced for those living in EEA countries with warmer climates. From the winter of 2015/16, subject to legislation being introduced, Winter Fuel Payments will no longer be payable to people living in countries where the average winter temperature is hotter than the warmest region of the UK.
Helping tackle fuel poverty, around 2 million households also receive assistance every year through the Warm Home Discount scheme – giving over 1.1 million of the poorest pensioners £135 off their energy bill in winter 2013/14. In addition, the government has permanently increased the Cold Weather Payment from £8.50 a week to £25 a week.
More information
Latest Winter Fuel Payment statistics
How you qualified for Winter Fuel Payment in 2012/13
You were born on or before 5 July 1951 (for winter 2013 to 2014 – this date will be 5 January 1952 – this date changes every year)
You normally lived in the UK throughout the week of 17 to 23 September 2012 (16-22 September for winter 2013/14)
How you qualify for Winter Fuel Payment for winter 2013/14
For winter 2013/14, if you were born on or before 5 January 1952 and don't receive the State Pension, but do receive Housing Benefit, Council Tax Reduction, or Child Benefit, then you need to apply for the payment if you've not received it before.
If you're eligible for the allowance you can claim for past winters between 1997 to 1998, 1998 to 1999 and 1999 to 2000. Any winters after 2000 cannot be back-dated. The deadline for applying for this is 31 March 2014.
How to claim for Winter Fuel Payment
Use the Winter Fuel Payment claim form to make a claim.
Press Office
Caxton House
Tothill Street
London
SW1H 9NA
London Press Office (national media and London area enquiries only – not questions about personal claims) 020 3267 5144
Out-of-hours (journalists only) 076 59 108 883
England and Wales (local media enquiries) 029 20 586 then 097 or 098 or 099
Scotland (local media enquiries) 0131 310 1122
Follow us on Twitter www.twitter.com/dwppressoffice
Published 11 September 2013