World news story
Want to get a Chevening scholarship? Top tips from a former scholar
Edita Maric from Bosnia and Herzegovina earned her Master's degree in International Law at the University College London (UCL) in 2016, as a Chevening scholar.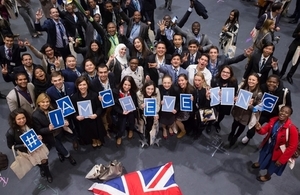 Chevening is the UK Government's international awards scheme aimed at developing global leaders, and funded by the Foreign and Commonwealth Office and partner organisations. Chevening offers a unique opportunity for future leaders and influencers from all over the world to develop professionally and academically, network extensively, experience UK culture, and build lasting positive relationships with the UK.
Applications for Chevening Scholarships for the academic year 2018/2019 are open until 7 November 2017.
Edita Maric from Bosnia and Herzegovina earned her Master's degree in International Law at the University College London (UCL) in 2016, as a Chevening scholar.
Here is Edita's advice for those applying for this year:
Be clear and concise
Throughout your essays, evaluate your personal and professional development. Explain your interest in pursuing Masters studies at this particular moment in your career. Elaborate on reasons for UK being your choice. Set your career plan and explain how a Chevening scholarship would enhance your career prospects. Make your application outstanding and be fearless in sharing your vision.
Be specific
Draw on your experience by using examples. Provide specific examples of leadership and networking skills. Be specific on choice of universities and courses as much as you can. Explain why the chosen courses are unique and the way they align with your career prospects.
Research
Still unsure about university choices? Conduct thorough research. Make sure that your choice of university/courses reflects your academic and professional record. Link your past achievements with your future career plan. Yet, do not be afraid to apply to the top universities!
University application
Contact the admissions staff at the university or the university alumni. Get back to your local university and check whether they can assist. Feel free to contact Chevening scholars too. Be thoughtful about deadlines for applications, they vary between universities!
References
It would be great if you can provide both academic and professional references. However, it is even more important that your reference is provided by someone who knows you well and who may expand on your personality and abilities!
Be persistent
The Chevening selection process is long, but aim to make the most of it at every stage. Now, polish your essays and work on them patiently. Do re-draft, but do not overdo them!
Interview
Show the best of you! Just be natural, be yourself and you will definitely make it. Focus and listen to the questions carefully. Be original and be prepared to answer questions on some of the current issues such as the country's future direction or some of the growing issues in the international arena. Awareness matters, especially for future leaders!
English language requirement
Check the requirements for the chosen university. Timing matters. Book your English language test appointment on time. Do not wait until the last moment!
Build your network
Get in touch with previous Chevening scholars, and ask them for guidance. Let them review your application or give you advice on the interview!
Published 26 October 2017