News story
Walkers to enjoy new 10 mile coastal path in Tees Valley
New 10 mile route of England Coast Path opens in Tees Valley to increase public access to the coastline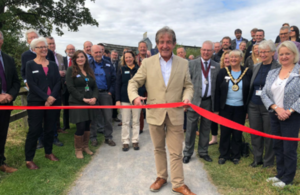 Natural England today opened (18 September) the latest stretch of the England Coast Path, increasing access to the magnificent Tees Valley coastline with a new 10-mile route from Newport Bridge to North Gare.
Connecting the towns of Billingham, Middlesbrough and Hartlepool, the route will pass key tourist attractions such as the Transporter Bridge, the RSPB Saltholme Nature Reserve and the Teesmouth National Nature Reserve, helping people to explore the natural and diverse wildlife which have made the area their home.
Walkers will be able to enjoy seal viewing areas around Greatham Creek and open wetlands at RSBP Saltholme, where a range of birds such as lapwing and yellow wagtail thrive.
The opening means there is now a 156-mile continuous portion section of the England Coast Path in place, running from Filey in North Yorkshire to Amble in Northumberland, making it the 6th longest National Trail in England.
Natural England is currently establishing a 2,700-mile path around the entire English coastline, with today's stretch the twelfth to open. When completed, it will be the longest continuous coastal walking route in the world. It will also become a National Trail – the nation's finest and most popular long-distance paths.
Natural England's Chair Tony Juniper, who attended today's event at RSPB Saltholme, said:
I am delighted to be here today to mark the opening of this new stretch in the Tees Valley, a region which is renowned for its rich landscape, wildlife, heritage and culture.

This stretch will give walkers access to 10 miles of beautiful coastline, enabling people to visit some wonderful nature conservation sites along the estuary. We know that being outside in the natural world is really good for people's health and wellbeing and I hope the path will bring benefits for generations to come.
The new path takes into account the area's important coastal habitats, including the Teesmouth and Cleveland Coast Special Protection Area (SPA), and Sites of Special Scientific Interest (SSSIs) such as the Tees and Hartlepool Foreshore and Wetlands, Seal Sands, Cowpen Marsh and Seaton Dunes and Common.
The route will incorporate parts of the estuary that were previously inaccessible to the public or very difficult to reach. Well over half of the stretch is brand new access, with the trail involving new construction of causeway, boardwalks and footbridges.
Today's launch comes during the government's Year of Green Action, a commitment outlined in the 25-Year Environment Plan to inspire more people to engage with the natural world. The England Coast Path project is also supported by The Snail & The Whale campaign, a partnership between Natural England, Macmillan Children's Books and the Marine Management Organisation which encourages children and their families to get outdoors and have a coastal adventure.
Councillor Shane Moore, Leader of Hartlepool Borough Council, said:
This marvellous new route will enable walkers to explore this fascinating area of coastline, which is rich in wildlife, including a host of different bird species and the seals of Greatham Creek. It will also increase even further the profile of the visitor attractions which are along or not far from the route including, in Hartlepool, the golden beach of Seaton Carew and the National Museum of the Royal Navy Hartlepool.

We will also be using this new section of path in a new pilgrimage route from Hartlepool to Whitby which the Council is creating called 'The Way of St Hild,' which will be launched in 2020 and will celebrate the importance of St Hild to the two towns.
Councillor Mike Smith, Stockton-on-Tees Borough Council's Cabinet Member for Environment and Transport, said:
I'm delighted to see this stretch of the England Coast Path officially opened to the public and I'm sure our residents will take great pleasure from walking and visiting the new route, as will those who visit the area from further afield.

The Stockton-on-Tees section adds around five kilometres of brand new footpath and creates a new connection through land that was previously inaccessible to pedestrians - the route will help to bring the infrastructure of the area together while contributing to the wider England Coast Path project.
Tompion Platt, Ramblers' director of advocacy and engagement, said:
It's really exciting to be opening another stretch of the England Coast Path, joining up with coastal paths in Yorkshire and Northumberland and bringing us one step closer to being able to walk the entire way around the English coastline.

We are incredibly proud to be working with Natural England on this latest and most ambitions National Trail, of the role the Ramblers played in campaigning for it, and of our dedicated volunteers working tirelessly to walk, survey and map the route.
Further information
The Marine and Coastal Access Act 2009 places a duty on the Secretary of State and Natural England to secure a long distance walking trail around the open coast of England, together with public access rights to a wider area of land along the way for people to enjoy.
Natural England is working on the entire coastal route, with new sections also opened in Cumbria, Norfolk, Dorset, Kent, Somerset, Yorkshire, Northumberland, North Tyneside, South Tyneside and Lincolnshire.
The England Coast Path will be our longest, newest and most challenging National Trail, passing through some of our finest countryside and coastal locations.
It will secure legal rights of public access for the first time to typical coastal land including foreshore, beaches, dunes and cliffs.
About Natural England
Established in 2006, Natural England is the government's independent adviser on the natural environment. Our work is focused on enhancing England's wildlife and landscapes and maximising the benefits they bring to the public.
We establish and care for England's main wildlife and geological sites, ensuring that over 4,000 National Nature Reserves (NNRs) and Sites of Special Scientific Interest are looked after and improved.
We work to ensure that England's landscapes are effectively protected, designating England's National Parks and Areas of Outstanding Natural Beauty, and advising widely on their conservation.
We run Environmental Stewardship and other green farming schemes that deliver over £400 million a year to farmers and landowners, enabling them to enhance the natural environment across two thirds of England's farmland.
We fund, manage, and provide scientific expertise for hundreds of conservation projects each year, improving the prospects for thousands of England's species and habitats.
We promote access to the wider countryside, helping establish National Trails and coastal trails and ensuring that the public can enjoy and benefit from them.
Published 18 September 2019