News story
Walker: 'London will go on being a great place to do business'
During visits to south London businesses Robin Walker reaffirmed the Government's commitment to getting an EU exit deal that works for all of the UK, including its capital city.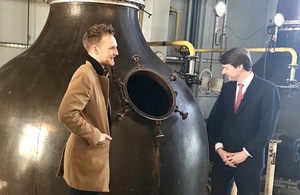 Continuing the nationwide visits to businesses ahead of Article 50 being triggered, the Department for Exiting the EU Minister visited Veolia's Southwark Integrated Waste Management Facility and the Beefeater Gin Distillery. He heard about the different factors that will impact each business and the opportunities that will arise as the UK leaves the EU.
While at the Beefeater Gin Distillery in Kennington, the Minister toured the premises and saw how one of Britain's greatest exports is produced. With 2.6 million cases of Beefeater gin being sold worldwide last year, the brand is a British success story – flying the flag for the UK across the globe.
He also heard from French company Veolia about its investment in Britain's environmental services sector (such as recycling and waste services) during his time at the Southwark Integrated Waste Management Facility. Veolia employs 14,000 people across the UK and last year announced that it will create 600 jobs in the UK over the next five years, as part of a £750m investment plan.
Minister for Exiting the EU, Robin Walker said:
London is a hive of business activity, with a vast range of sectors represented across the capital. Not only does the city generate world famous exports, it also attracts investment from internationally acclaimed companies.

As we leave the EU, we want each and every sector operating in the capital to continue to boom. That's why we will carry on engaging with businesses operating in London throughout the negotiation process, ensuring that we get a deal that maintains London's reputation as a great place to do business.

It's great to see an international company like Veolia is investing in jobs in the capital.
Alongside this engagement and a wide variety of meetings across sectors, the Secretary of State for Exiting the EU, David Davis, has been meeting regularly with the Mayor of London.
Published 10 March 2017