Press release
Wales Office to host launch of Royal Mail's Dylan Thomas stamp
Dylan Thomas celebrated in new Royal Mail 'Remarkable Lives' set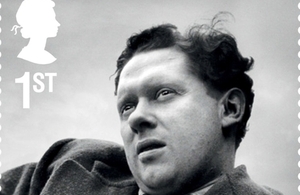 Secretary of State for Wales, David Jones will today (25 March) host the official launch of the Dylan Thomas stamp at the Wales Office in London.
Welsh poet and writer Dylan Thomas is one of the remarkable individuals being celebrated - in the centenary of their births – on a Royal Mail stamp in the 'Remarkable Lives' stamp issue.
The set, available on 25 March, commemorates individuals who have all made a major contribution to British society. Like Dylan, acclaimed for the radio drama Under Milk Wood and for poems such as 'And Death Shall Have No Dominion' and 'Do Not Go Gentle into That Good Night'.
Mr Jones will welcome guests, including members of the poet's family, to Gwydyr House, and will present Dylan Thomas's granddaughter, Hannah Ellis, with a framed stamp of her grandfather's image.
Secretary of State for Wales, David Jones said:
Dylan Thomas is one of the twentieth century's greatest writers and I'm delighted to see the achievements of this great Welshman recognised by Royal Mail, and embodied within this impressive collection of stamps.

"Dylan Thomas' reputation as a cultural giant spans the globe. As we mark the centenary of his birth in 2014 with a series of celebratory events, I'm delighted to be able to host this important occasion at Gwydyr House in the company of his family members.
Dylan Thomas' granddaughter, Hannah Ellis, said:
My grandfather wrote passionate and poetic letters to friends and family. They are a treasure box of magical and delightful descriptions and humorous anecdotes of life in Welsh towns and villages. It is a great honour that Dylan Thomas is being remembered in the Remarkable Lives series of stamps. I do wonder how he would have felt to see himself on a stamp.
The set of 10 "Remarkable Lives" also include:
Sir Alec Guinness and Kenneth More -stage and screen actors
Joe Mercer, football player and manager
Barbara Ward, economist, broadcaster and pioneer of global environmental issues
Noorunissa Inayat Khan, British Special Operations Executive in Nazi occupied France during WW2
Max Perutz, molecular biologist and Nobel Prize winner 1962
Roy Plomley, broadcaster and writer
Joan Littlewood, theatre director and writer
Abram Games, War Office poster artist and pioneering graphic designer
Andrew Hammond, Royal Mail Director of Stamps and Collectibles, said:
The 'Remarkable Lives' stamp issue creates a great sense of history, and captures both the achievement and endeavour of these exceptional people.
Published 25 March 2014