News story
Wales Office Minister sees both the innovative and historical during Aberystwyth visit
Baroness Jenny Randerson will see first hand how Aberystwyth is fast becoming a hub for science, innovation and heritage.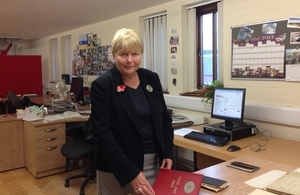 In the latest of a series of visits to Wales' higher education facilities, Baroness Randerson will visit Aberystwyth University where she will meet with Vice-Chancellor Professor April McMahon and the University's Pro Vice-Chancellors, and hear how the University continues to thrive and be a leader in international research. The facility has a distinguished record of undertaking cutting edge research in a broad range of areas, recognised both nationally and internationally.
Baroness Randerson will later visit the Institute of Biological, Environmental and Rural Sciences (IBERS) on the University's Gogerddan Campus.
Director of IBERS, Wayne Powell will escort Baroness Randerson on a tour of the internationally recognised research and teaching centre which provides a unique base for research in response to global challenges such as food security, sustainability, and the impacts of climate change.
IBERS works with scientists from Bangor University, researching and informing policy on the rural economy and rural communities. It works closely with stakeholders to ensure that the research it offers is relevant and has a keen emphasis on using their research to enhance the sustainability of land based industries.
With 360 members of staff, IBERS is the largest Institute within Aberystwyth University, teaching 1350 undergraduate students and more than 150 postgraduate students.
Business Innovation and Skills Minister, David Willetts announced in July that a new UK Innovation and Research Campus will be based at the site. The Aberystwyth Innovation and Diffusion Campus, backed by £14.5million of UK Government investment will include a commercially focused training centre, and will enable numerous departments within the University to work with IBERS to develop the bio-economy.
Wales Office Minister Baroness Jenny Randerson said:
I heard great things about Aberystwyth University and their exciting Institute of Biological, Environmental and Rural Sciences department when I visited the Royal Welsh show earlier this year.
I am keen to see how IBERS and the Gogerddan campus is developing following the UK Government funding announced in July.
The University and IBERS specifically is making a great contribution to the Welsh economy by developing skills in a developing area and is putting Wales firmly on the map. I hope to hear how the funding has created jobs and already shown signs of boosting the economy.
IBERS attracts international attention with the work it does at their research and teaching centre. They continue to providing a unique base for research in response to global challenges such as food security, bio-energy and sustainability, and the impacts of climate change.
Vice-Chancellor Professor, April McMahon said:
We are delighted to welcome Baroness Randerson to Aberystwyth. The University has a great story to tell.
The new National Plant Phenomics Centre facility at Gogerddan reflects the ambition we have as a University to contribute as an international centre of excellence, both in terms of research and in inspiring a new generation of highly trained graduates who are equipped with the skills to tackle some of the pressing environmental challenges faced by society.
During the next three years, we are investing a further £100m in enhancing and extending our already excellent residential and teaching facilities
It is great that Baroness Randerson is able to take time from her busy schedule to meet University staff and students and to hear about our ambitious agenda.
We hope she will have an enjoyable and inspiring morning.
Wayne Powell, Director of IBERS said:
We are delighted to welcome Baroness Randerson to IBERS Gogerddan, which is a BBRSC sponsored Institute and future location for the Aberystwyth University Innovation and Diffusion Campus, providing a major opportunity to engage with industry to drive the economy. The National Plant Phenomics facility is located here – the only one of its kind in the UK and the Baroness will see how we utilise cutting edge technology in plant genetics to grow the fuel and food crops of the future.
Baroness Randerson will then visit and tour the National Library of Wales where she will visit the Digitisation unit with Arwel Jones, Director of Public Services. Here, she will meet the education team who will provide an overview of how they maintain the Library and how they educate and assist members of the public.
The National Library of Wales is home to thousands of books, manuscripts and archives, maps, pictures, photographs, films and music about both Wales and the rest of the world.
Baroness Randerson added:
I will also be able to see the National Library of Wales and its wide range of books and manuscripts – we should feel very proud to hold such a significant collection of material in Aberystwyth.
I would wish to encourage more people to visit our National Library and to use its rich resources.
For further information please contact Sahar Rehman on 0207 270 1362/ sahar.rehman@walesoffice.gsi.gov.uk
Published 1 November 2013
Last updated 5 November 2013
+ show all updates
updated the image
Added translation
First published.