World news story
Wales National Football Team in Kick About with Children from Arab and Jewish Communities
Real Madrid's Gareth Bale among players who gave workshop in ball skills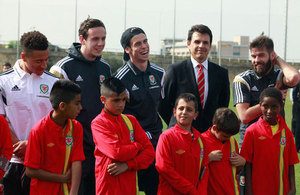 A day after their European Championship Qualifier in Israel, the Wales National Football Team played football with a group of Jewish and Arab children on Sunday 29 March in Haifa.
Twenty three children from Jewish and Arab communities across northern Israel were coached on ball skills from leading names in football including Real Madrid's Gareth Bale and Liverpool's Joe Allen. The team presented the children with official Wales Football Association football shirts.
The event was organised by the British Embassy in Tel Aviv in partnership with major youth football league the Equalizer, which bring together young Jewish and Arab teams to play football, interact, and build co-existence and reconciliation between Israel's communities.
British Ambassador to Israel, Matthew Gould said: "Football is a great equaliser. We are proud to support this initiative that breaks down barriers between communities through football. I am delighted that the Welsh Football Association supported it during their visit to Israel. It sends a strong message."
Notes for Editors
The British Embassy "Coexistence through Football" project was launched in January 2014 in cooperation with grassroots football organisation The Equalizer
The Equalizer is a not-for-profit organisation, working directly with the Ministry of Education and schools to provide year-round football-based activities for Jewish and Arab children aged 10-12
Currently, the project helps schools in disadvantaged communities in Israel's southern and central regions form their own football teams and leagues. Each team enjoys two weekly football sessions (run by a certified coach) and two weekly tutoring sessions (run by students) during which the participants learn the core values of living in peace and respecting one another. Once a month, the teams take part in regional tournaments, giving the participants the opportunity, for the first time in their lives, to meet and play with children of the other community
Rolling out the activities across the Galilee has the potential to make a significant, tangible difference in a region where the need for coexistence is so critical. Last year, the programme reached 650 children in 40 teams across central and southern Israel. By establishing 6 new leagues in northern Israel, we aim to scale up the program's proven impact and reach 2,000 Jewish and Arab children over the next three years.
Published 29 March 2015