Press release
"Wales must seize opportunities to extend global reach"
Welsh Secretary hosts Indonesian delegation on visits to north Wales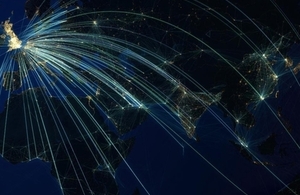 Secretary of State for Wales, David Jones MP will today (28 February) urge businesses in Wales to capitalise on opportunities to explore overseas markets as he welcomes a delegation from the Indonesian Embassy on a visit to north Wales.
Mr Jones will host His Excellency Teuku Mohammad Hamzah Thayeb and a delegation from Indonesia on a series of visits to meet businesses with aspirations to trade internationally, and others already experiencing success in global markets.
The delegation will first meet members of West Cheshire and North Wales Chamber of Commerce to discuss Government support services on offer to businesses in the region looking to expand to new markets.
They will later travel to Airbus in Broughton and Toyota UK Manufacturing in Deeside, where they will meet senior executives and the members of the Welsh workforce that continue to make their mark on the global manufacturing sector.
The visits come in the week following the Secretary of State's trade mission to Malaysia and Oman, where he met key business and government leaders to build on existing, and develop new, business links.
Speaking in advance of the visits, Mr Jones said:
If Wales is to succeed in the global race, we must help companies to grow and to break into new international markets.

I have seen, during my trip to Indonesia last year, and more recently to Malaysia and Oman, the huge opportunities that exist within these emerging markets.

We have some excellent businesses in Wales that are trading internationally, showing that Welsh businesses can be successful in global markets. I am therefore delighted to welcome the Ambassador to north Wales today to explore what more can be done to strengthen business links between Wales and Indonesia, for the long-term benefit of the Welsh economy.
The delegation's first engagement will include a round table discussion with members of the West Cheshire & North Wales Chamber of Commerce at Glyndŵr University in Wrexham.
Chaired by Colin Brew, the Chamber's Executive Director, the meeting will focus on opportunities for businesses in north Wales to strengthen existing links, or to identify new opportunities to trade in Indonesian markets.
Colin Brew, Executive Director of the West Cheshire and North Wales Chamber of Commerce said:
Since the financial downturn took hold, the British Chambers of Commerce (BCC) and governments at all levels have actively promoted the benefits export and international trade can provide for businesses of all sizes. The potential benefits for businesses from international trade are clear to see.

British products and services and - by extension - products and services produced in the geography of north Wales are in high demand and as a country our global profile has never been higher. Opportunities such as the visit of His Excellency, The Indonesian Ambassador, provide local business a superb opportunity to explore how they can grow their businesses further through establishing overseas links and so West Cheshire & North Wales Chamber of Commerce is delighted to be part of this event.
Airbus in Broughton employs over 6,600 people, including almost 400 apprentices in the largest engineering apprenticeships scheme in Wales. The factory is responsible for the assembly of wings for the whole range of Airbus aircraft.
During the visit, the delegation will discuss the strength and importance of the aerospace sector for the UK economy, and tour the A330 equipping facility where representatives from Garuda Indonesia airlines will see one of its aircraft wings in production.
Steve Thomas, Government Affairs Executive at Airbus said:
We are delighted to welcome the Indonesian delegation to Airbus Broughton. The Indonesian market is tremendously important for us and air transport has been growing at 15-20% per annum in the region. It will be great to showcase our state of the art manufacturing facility, that employs over 6,000 highly skilled people and view Garuda's A330 wings in production. We welcome this opportunity to strengthen economic ties between Wales and Indonesia.
The delegation will later travel to Deeside to visit Toyota Manufacturing UK where they will be hosted and escorted on a tour of the site by Plant Director, Richard Kenworthy.
Employing 557 people, the plant produces engines through a process of aluminium casting, machining, assembly, and testing. As well as supplying engines to the vehicle manufacturing plant in Derby, Deeside also supplies engines and components to other Toyota plants around the globe.
Richard Kenworthy, Plant Director at Toyota Manufacturing UK said:
For us, Wales is a good place to do business. With access to skilled employees, and support from both local and national government, we have been able to export our engines and components across the globe. Export is key to our business growth and continued success.
David Jones, Secretary of State for Wales said:
Toyota and Airbus are both making important contributions to the growing reputation and success of the UK manufacturing sector. They are glowing examples of collaboration between global companies and the UK, and a demonstration of why Wales continues to be a prime location to invest and do business.

This Government's aim is to create a strong and vibrant economy in Wales, and creating the right conditions and support for inward and overseas investment is central to this vision.
With a view to showcasing the important contribution international tourism makes to local economies in Wales, Secretary of State will also host the delegation on a visit to Chirk Castle in Wrexham.
The 13th- century National Trust property is a key tourist attraction in the region, helping to boost the local economy, increase volunteer and work opportunities and putting Wales firmly on the map as an international tourism destination of choice.
Shane Logan, Denbighshire General Manager at the National Trust said:
Chirk Castle is honoured to welcome His Excellency Mr. Teuku Mohammad Hamzah Thayeb and delegation to one of the National Trust's very special places. Trade between our great nations would be nothing without cultural and historical icons such as Chirk Castle providing the back drop. A mighty border fortress; a place of great meetings and immense decisions that shaped the Wales we know and love today.
Published 28 February 2014