Press release
Wales celebrates 'Welsh Great' Dylan Thomas
Baroness Randerson pays tribute to Dylan Thomas on the 100th anniversary of his birth.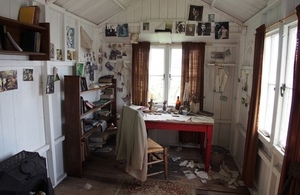 The Wales Office hails one of the nation's literary greats this week as it pays tribute to Dylan Thomas on the 100th anniversary of his birth.
Wales Office minister Baroness Randerson said:
Dylan Thomas is a Welsh Great and I am delighted to take this opportunity to mark his life and celebrate his work. Not only does he have a proud literary catalogue - from the delightful 'A Child's Christmas in Wales', through the moving 'Do not go Gentle' and 'These Five Kings' to the unrivalled delights of 'Fern Hill' and the masterpiece that is 'Under Milk Wood' - but he has also put Wales on the map as a tourist destination.

Thousands come annually to visit his home in Laugharne - including famously Bill Clinton - and millions have heard of his home city, the 'lovely ugly town' of Swansea, through his works. This gives a massive boost to the Welsh Tourism industry, which is vital to the Welsh economy and brings in £2.4bn annually.

Wales is today celebrating the centenary of the birth of a Welsh icon, a literary giant and one who has done more to boost Wales than he would ever have imagined in his lifetime. Happy birthday, Dylan Marlais Thomas.
Baroness Randerson, in partnership with Swansea University, will next week host a reception for those shortlisted for the Dylan Thomas International Prize at Gwydyr House.
Published 27 October 2014