Press release
Wales Bill powers to "deliver permanence and accountability", says Alun Cairns
The new Wales Bill will turn the Welsh Assembly into a Parliament with accountability, Secretary of State Alun Cairns said today.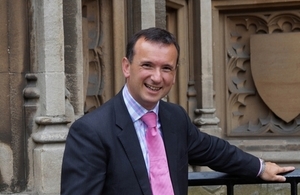 Speaking as the Wales Bill was introduced in Parliament - on the same day as the Senedd opens for its fifth session - Alun Cairns explained that the Bill will deliver a bold package of powers to Assembly members that can set in stone " a strong and mature devolved Parliament"
The Bill will:
make the Welsh Assembly permanent and more accountable to people in Wales
build on last year's historic funding floor announcement by enabling the Assembly to vary an element of income tax for the first time
confirm in statute the existence of a body of Welsh law made by the Assembly for Wales and Welsh Ministers which forms part of the law of England and Wales
reduce the number of areas in which Westminster currently has control - for example ports, speed limits and local elections - and pass those powers to the Assembly
Alun Cairns said:
Wales is an outward-looking nation that is already punching above its weight on the world stage.

With its distinct heritage and proud radical traditions, Wales is firmly on the path towards securing a strong and mature devolved Parliament. Today's Bill is the next stage on that journey.

I look forward to working with the new Assembly, and together ensuring that Welsh democracy comes of age through a Wales Bill that delivers permanence and accountability.
Welsh men and women want sensible legislation that reflects their priorities and allows them to live under laws of their own choosing. I have heard that instruction loud and clear, and I will deliver on it.
The second reading of the Wales Bill will take place later this month. The Wales Bill is expected to complete its passage through the Houses of Parliament this session.
The Wales Bill, Wales Bill Impact Assessment and Justice in Wales Working Group Terms of Reference can be downloaded here
Published 7 June 2016