Press release
Vulnerable court users to benefit from £5m government investment
Liverpool court users in need of support will be able to access greater guidance and help at the city's Civil and Family Court following £5m of government funding.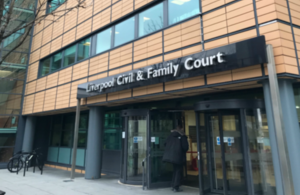 The investment will allow for more people to be supported in a safer, more comfortable environment and is part of HMCTS' commitment to improving the condition of court buildings and access to justice for all users.
The Personal Support Unit (PSU) is a charity that helps people who find themselves in court and in need of assistance, providing them with support and guidance through a team of volunteers so they can represent themselves effectively in hearings. These are largely people representing themselves in cases of divorce, contact with children or eviction from their homes. Additional facilities now available include:
a new, larger room so that more people can be helped;
kitchen facilities and new furniture;
extra phone lines to allow volunteers to support more clients;
privacy screens for conversations between clients and volunteers.
Justice Minister, Lucy Frazer said:
Court appearances can often come at difficult and emotional times in a person's life. Therefore, I was delighted to hear the positive effects these new and improved personal support facilities are already having and look forward to seeing first hand the difference this refurbishment has made.

The team of volunteers in Liverpool are doing a fantastic job and this funding means they can now offer their guidance and support to even more people. This government is committed to helping those that need it most and ensuring our justice system remains the best in the world.
Personal Support Unit Chief Executive Officer, Eileen Pereira said:
I was bowled over by the work that has been done by the courts team at Liverpool to enable this expansion of service to take place. Our team of volunteers will be able to support more Litigants in Person as a direct result of the move to the new room which is already being shown by the rise in numbers of people we have helped.

The PSU nationally managed more than 65,000 contacts in the last year and in this financial year we are expecting over 75,000 contacts. Liverpool is fast becoming one of our busier PSU units. Our vision "No one should face court alone" is alive and well in Liverpool.
The refurbishment is part of HMCTS' ambitious £1bn reform programme, which is bringing new technology and modern ways of working to the justice system.
This programme has already delivered:
A new fully accessible online civil money claims service giving the public the ability to make a small claim online – with more than 31,000 claims made since its launch in March and user satisfaction at 90%;
A new system for applying for divorce online, which has cut errors in application forms from 40% to less than 1%;
A new probate system in testing, which has cut errors, quickened the process and has a user satisfaction rate of 93%;
A pilot of fully video hearings in tax tribunals to test the potential for roll-out where appropriate across the courts and tribunals system;
The national implementation of a new in-court system to record the results of cases digitally and instantly.
Published 23 November 2018