News story
Volunteers praised for helping to cut crime
This news article was published under the
2010 to 2015 Conservative and Liberal Democrat coalition government
Inspirational volunteers who have helped the police have been thanked.
Volunteers who have helped police reduce the number of fatal car crashes, tackle hate crime, use technology to track down criminals and reduce anti-social behaviour were honoured for their work at an award ceremony in London.
Home Secretary Theresa May said:
Special Constables and police volunteers make a huge contribution to local policing sharing their time, talent and skills for the benefit of their community.

Everyone has a role to play in keeping our neighbourhoods safe. Crime has fallen by more than 10% under this government and the ingenuity and sheer hard work of the police and local residents, such as those receiving awards today, will help us continue that downward trend.
College of Policing Chief Operating Officer, Deputy Chief Constable Rob Beckley said:
The achievements we celebrate today show how special constables and police support volunteers can add significant value to policing. Their dedicated efforts alongside regular officers and staff to improve local communities are inspiring.

The College will work closely with the police service to ensure special constables and police support volunteers continue to be a vital part of policing.
Watch the winning stories
Denise Rogers
Denise Rogers helped Cheshire Police reduce the number of fatal traffic collisions involving 16-25 year olds by talking to over 10,000 young people about the dangers of irresponsible driving.
Rachel McNally
Rachel McNally helped reduce the number of incidents of violent and antisocial behaviour at the Salford Royal Hospital.
Daniel Kempf
Daniel Kempf helped improve relationships between the local police and the Polish community in Darlington. He set up a series of beat meetings specifically for the Polish community and worked closely with the force to improve understanding of Polish culture.
Bill Appleby
Bill Appleby has helped recruit over 200 new volunteers to Durham Police.
Inspirational awards
The Ferrers Awards recognise the outstanding contribution of police special constables and police support volunteers. The 2013 ceremony will be the 20th awards, renamed this year in honour of the late Lord Ferrers, former Home Office minister and founder of the awards, who died last November.
Winners were selected by representatives from the Association of Chief Police Officers, the Police Federation of England and Wales, the Superintendents' Federation, the College of Policing and the Association of Police and Crime Commissioners.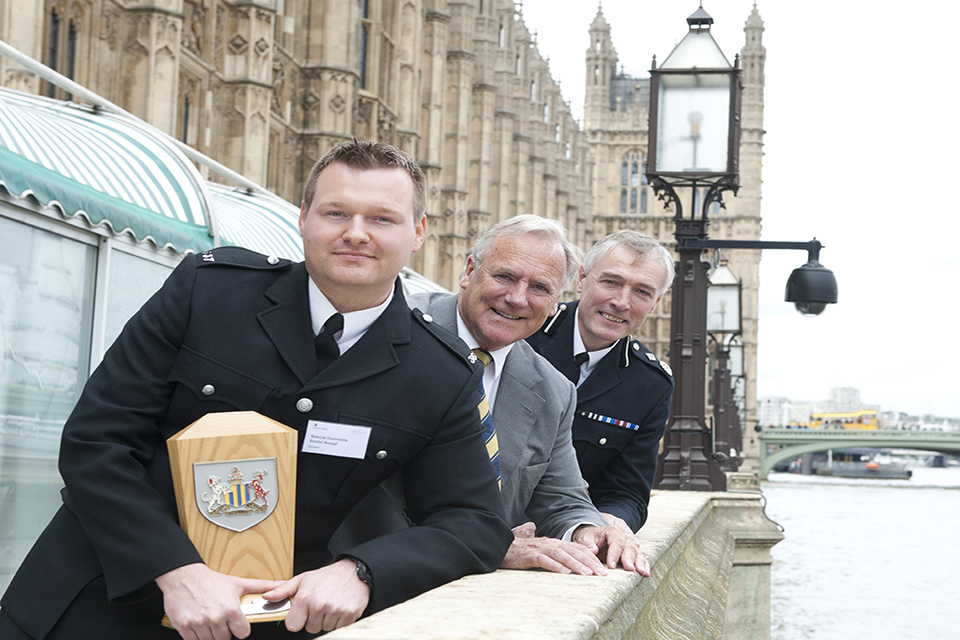 The winners and runners up are:
Ferrers Trophy:
Winner:Daniel Kempf, Durham
Runner up:Rachel McNally, Manchester
Runner up:Ewa Labeda, Cheshire
Ferrers Team Award:
Winner: Operation Responder, South Yorkshire
Runner up: Campus Watch Specials Team, Lancashire
Police Volunteer Award:
Winner: Denise Rogers, Cheshire
Runner up: Hilary Short, West Yorkshire
Runner up: Joe Kenny, Warwickshire
Police Volunteer Award:
Joint Winner: Eggborough Front Office Volunteer Team, North Yorkshire
Joint Winner: Blaby and District Police Support Volunteers, Leicestershire
Special Achievement in Recruitment and Retention Award:
Winner: Ian Riley, Gwent
Runner up: North Yorkshire Recruitment and Retention Team
Achievement in Recruitment and Retention Award (PSVs)
Winner: William Appleby, Durham
Runner up: Carol Barrs, Staffordshire
Employer Supported Policing Award
Winner: South Yorkshire Police Transport Specials
Runner up: Greater Manchester Travel Safe Scheme