Voluntary sector funding announced to help tackle rough sleeping
Housing Minister Grant Shapps has today welcomed publication of the first set of rough sleeping figures since he overhauled the way counts are…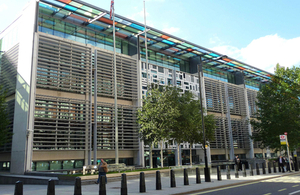 Housing Minister Grant Shapps has today welcomed publication of the first set of rough sleeping figures since he overhauled the way counts are conducted.
The new figures bring the national total of rough sleepers to 1,768 on any given night - considerably higher than the 440 counted under the previous system.
In a change to the previous system, all councils now provide a robust estimate or a count of those sleeping rough in their area - in order to give a clearer picture of the scale of the problem in each area of the country.
And to support the work of the voluntary sector in tackling rough sleeping, the Government has announced an £18.5m package of funding for the main national homelessness charities, and extra powers for the Mayor of London to run pan-London rough sleeping services.
At the Spending Review, the Coalition Government announced a £400m investment to tackle homelessness. Whilst the majority of this funding is directed through councils to allow them to decide their priorities locally, ministers decided that there remained a compelling case for a 'Homelessness Grant' to be given directly to the voluntary sector.
Housing Minister Grant Shapps said:
For too long a supposedly national figure of rough sleepers hasn't reflected the reality on our streets. Councils and local charities know their areas best and that's why I am putting them centre stage in assessing the true scale of the problem they face locally. By having these more accurate numbers and a better national picture of the problem - we can start to help the homeless much more effectively.

So whilst on the surface the new figures show a large jump in those sleeping on the streets, they actually reflect a more accurate way of evaluating the extent of rough sleeping. We had a situation before where large numbers of those spending the night on the street were simply being ignored, with cities like Manchester not counting in 2010 and Coventry not counting on a number of occasions.

And I have made clear that while it is vital we tackle the record Budget deficit we inherited, we must also ensure that the most vulnerable people in society are protected. This funding will strengthen the already vital role that charities play in tackling rough sleeping and enable them to provide more extensive services than would otherwise be possible".
The Minister has also asked councils to replace Government officials on the count with representatives from Homeless Link, the national charity for all homelessness agencies. This ensures that those working directly to help people off the streets can best offer their expertise and advice, whilst providing a more consistent approach to counting rough sleepers.
And to tackle the wider issues affecting rough sleepers, Mr Shapps has brought together ministers from across eight government departments to look beyond just housing and consider employment, training, rehabilitation and healthcare.
The ministerial group on homelessness looks at areas such as better health outcomes for homeless people, through closer working between local authorities, hospitals and primary care services and the reduction of homelessness amongst ex-offenders, which is linked with re-offending in many cases.
It comes as Communities Minister Andrew Stunell visited the Broadway Centre in Hammersmith, one of the many centres across the country run by the voluntary sector, to see first-hand the vital role the sector plays in helping people off the streets and to rebuild their lives.
Today's funding is for key national homelessness charities and for rough sleeping services across London.
£8m to Crisis over the next two years to expand its scheme to get single homeless, including ex-offenders, into the private rented sector and to support them in the accommodation
£1.5m to Homeless Link, the national umbrella organisation for homelessness charities, to help the voluntary sector across the country work more effectively with the single homeless and to promote good practice
3.4m for the National Homelessness Advice Service run by Shelter and CAB; NHAS supports the provision of effective debt and housing advice by the CAB and local authorities across England
£150,000 to UK Refuges Online which helps tackle domestic violence
£8.45m a year to the Mayor to commission and run pan-London rough sleeping services currently run by the Department for Communities and Local Governmnet. These include emergency accommodation, cold weather shelters, a street rescue service and tenancy sustainment teams.
Communities Minister Andrew Stunell said:
Homelessness is a very real and worrying problem in our country and charities play a key role in providing shelter, food and support to those who find themselves sleeping on the street.

Today I have seen their dedication and generosity at first hand, and how funding such as that we are announcing helps provide key support to the voluntary sector to help us meet our objectives on tackling homelessness, and the Big Society.
Crisis Chief Executive, Leslie Morphy said:
Given the current pressures facing local services and with homelessness and rough sleeping a very real issue in communities across the country at Crisis we believe it is crucial to focus on single people who are too often not a priority and help them to overcome barriers to renting privately. 

Single homeless people rarely meet the criteria to acquire council accommodation and finding a flat in the private rented sector can be a complex and expensive option. They need advice and support but in many areas of the country, these specialist services are not there.

Crisis has just set up some 49 new services across England, and we warmly welcome today's announcement of further funding for the PRS Access Development Programme which will enable us to establish such schemes in significantly more locations and secure the future of successful projects already in place.

These schemes will help people overcome financial barriers, match them to good landlords and help more individuals avoid or escape the perils of homelessness.
As London has particularly high levels of rough sleeping, and the Mayor of London has shown strong leadership on the issue, funding and oversight for all pan-London services will move to the Greater London Assembly.
The move will give them the full flexibility over delivery of their homelessness services and allow them more flexibility in meeting the Mayor's commitment to ending rough sleeping in London by 2012.
The Mayor of London, Boris Johnson, said:
The Government has rightly decided that London is best placed to deliver the services it needs to end rough sleeping by 2012 and this enables us to build on the excellent work that already goes on at the borough level. We can now step up a gear in our drive to end rough sleeping in the capital for good.
Notes to editors
The statistical release Rough Sleeping Statistics England - Autumn 2010 can be found at: www.communities.gov.uk/publications/corporate/statistics/roughsleepingautumn2010.
2.  Previous figures were published in July 2010 which included street counts conducted between January 2009 and May 2010 and rough sleeping estimates as at June 2010: www.communities.gov.uk/publications/corporate/statistics/roughsleepingcount2010.
The Department also issued a public consultation on evaluating the extent of rough sleeping in July 2010. A summary of the consultation responses received can be found at: www.communities.gov.uk/publications/housing/evaluatingroughsleepingresponse.

Following the consultation the new guidance for councils, E_valuating the extent of rough sleeping: A new approach_ was published in September 2010 and can be found at: www.communities.gov.uk/publications/housing/roughsleepingevaluate.
The rough sleeping statistics for autumn 2010 are the first to be published under this new guidance. The main changes under the new guidance are
conducting street counts is a choice for individual local authorities
where a local authority decides not to count they should submit a robust estimate of the number of people rough sleeping on a typical night - where possible they should draw on information from the voluntary sector in their area
the definition of rough sleeper has been expanded - in particular the definition of 'bedded down' now includes rough sleepers about to bed down
encouraging neighbouring authorities to count on the same night
gearing start times for counts to suit local circumstances to ensure all those bedded down are recorded
having Homeless Link (the national body for homelessness charities) verify all counts instead of government officials
At the Spending Review, the Coalition Government announced a £400m investment to tackle homelessness. This includes £326m in grants for local authorities, and £74m for the voluntary sector.

Crisis is the national charity for single homeless people dedicated to ending homelessness by delivering life-changing services and campaigning for change. The Crisis PRS (private rented sector) Access Development Programme was launched in 2009-2010 to help single homeless people find and sustain good quality accommodation in the private rented sector (PRS). Building on over 10 years experience in this area, Crisis provided funding and support to 49 community based projects which will assist over 1,500 people into sustainable accommodation. This project is funded by the DCLG and supported by the Ministry of Justice, Homeless Link and the National Landlords Association. For full information on the programme, how homeless people can be successfully housed in the private rented sector and details of existing access schemes across the country please see the best practice website Crisis manages: www.privaterentedsector.org.uk (external link).
Twitter
Keep up to date with the Department by following us on Twitter (external link).
Media enquiries
Visit our newsroom contacts page for media enquiry contact details.
Published 17 February 2011