Voluntary sector at the heart of public service reform
Ministers pledge swift action to open up opportunities for the voluntary sector to help deliver public services as part of the Big Society.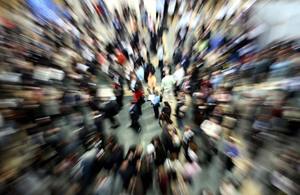 Decentralisation Minister Greg Clark joined Paymaster General Francis Maude and Civil Society Minister Nick Hurd for a Number 11 Downing Street summit with voluntary sector leaders. They discussed plans for a green paper to address how to create a level playing field for charities, voluntary groups and social enterprises to bid for public service contracts.
Mr Clark added that the upcoming Localism Bill will devolve power from the centre, empowering people and organisations to challenge the way local services are being delivered and to offer a better, more cost effective alternative.
Decentralisation Minister Greg Clark said:
"The government is united in its drive to open up public services so the best providers get the job. I am making sure that more power goes to the local level where decisions about what is needed are best made. I want local voluntary groups to have the right to deliver more services locally so that the sector are not confined to a walled-off part of councils' budgets."
The ministers also pledged continued investment in the training of public service commissioners and reiterated that social enterprises are eligible to apply for funding from the £1.4 billion regional growth fund.
Francis Maude, Minister for the Cabinet Office, said:
"In the past, huge amounts of money have gone in to public services and been swallowed up by bureaucracy before it reached the frontline. A Big Society approach will drive improvements by giving power to people working on the ground who know how to do things better.
"I want to see a whole mix of providers. New models like public sector staff forming co-ops to run their services and civil society organisations forming new alliances with government and the private sector can drive this change. They will break down the old fashioned public service hierarchies and replace them with vibrant, efficient services that give people the support they need."
Civil Society Minister Nick Hurd said:
"The commissioning green paper will kick-start a radical shift in public service contracting so only the most innovative approaches to win through. We know that there are too many barriers for civil society organisations that want to deliver public services and we are determined to sort them out. I'm very pleased that we can continue training public services commissioners in working with civil society, better understanding in this area will be critical to our success. It is also a great recognition of the value of social enterprises that they will be able to access the £1.4 billion regional growth fund."
Published 3 November 2010