Voices of Nepal - a human rights documentary
The British Embassy in Nepal has highlighted human rights concerns in their documentary "Voices of Nepal" as the Human Rights Council start a review of Nepal's human rights situation.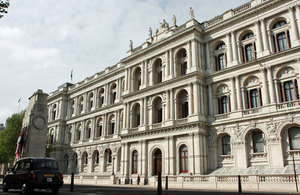 In the documentary, Gita Sunar tells the story of her husband who was killed during interrogation after being was arrested by police while walking in the streets, accused of gambling.
The mother of 15 year old school girl Maina Sunar tells of how her daughter was tortured to death in Panchkhal barracks. The perpetrators have been named but none of them have stood trial.
The Human Rights Council in Geneva starts its first Universal Periodic Review of Nepal's human rights situation today. The UK has supported this process.
The British Embassy in Kathmandu has been active in the run up to the review in supporting Nepal's civil society organisations in preparing for the review. Starting in June 2010, the Embassy provided support for a consultation exercise, which brought 235 grassroots NGOs together in the preparation of their official submission to the Human Rights Council.
The review is a unique process which involves a review of the human rights records of all UN member states once every four years. It provides the opportunity for each State to declare what actions it has taken to improve its human rights situation. The review is an important UK-backed tool with great potential to promote and protect human rights globally.
The interactive discussion in the Universal Periodic Review Working Group is an opportunity for other countries to question representatives of the Government of Nepal on the specific information included in their national report and to recommend concrete and measurable actions to improve respect for human rights.
Published 25 January 2011