News story
VMD and VPC Open meetings 2018
Presentations now available following the open meeting held on 28 September 2018.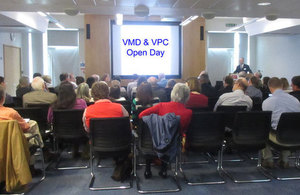 The VMD and Veterinary Products Committee (VPC) held their annual Open meetings on 28 September. The event, introduced by VMD CEO Peter Borriello and VPC Chair Professor Malcolm Bennett, was well attended by representatives from various stakeholders and a number of topics were discussed in a lively Q&A session.
Sarah Norton of the VMD's EU Exit team gave an update on the work that is being done towards planning for a successful Exit, and Professor Jason Weeks of the VPC gave a talk on the environmental risks resulting from topical spot-on ectoparasiticides when used as veterinary medicines for dogs. Links to their presentations can be found below.
EU Exit (PDF, 485KB, 19 pages)
Reflections on the environmental risks resulting from topical spot-on ectoparasiticides when used as veterinary medicines for dogs (PDF, 1.6MB, 24 pages)
Published 4 October 2018