Vivienne Westwood unveils new collection in Beijing to celebrate GREAT campaign
British fashion icon Vivienne Westwood unveiled her new red carpet collection yesterday evening at the Residence of the British Ambassador.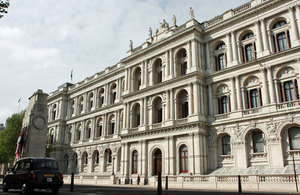 Over 400 guests from China's creative sector and leading businesses attended the event, along with celebrities such as actress Hu Jing and TV host Chen Luyu.
The event was part of the GREAT Britain campaign, an initiative launched by Prime Minister David Cameron in 2011 that invites to the world to take a fresh look at everything Britain has to offer. The UK is at the cutting edge of international fashion, with designers such as Vivienne Westwood demonstrating the UK's leading role in the creative industries. The UK remains a world-class incubator of the most exciting and innovative fashion design talent. Global demand for British fashion designs continues to increase, and China is one of the major markets for British brands.
The couture gowns presented by the British fashion designer were from her Spring-Summer 2013 Red Carpet Capsule Collection, and featured embellished gowns and cocktail dresses that reflected the glamour of the Baroque era and ball gowns in silk taffetas and boned corsets that recall the court of King Charles II. The designer also showed pieces from her Autumn-Winter 2012/13 collection, including iconic Union Jack print gowns and corset dresses.
British Ambassador to China Sebastian Wood said, "The UK fashion industry is renowned for its trendsetting, inventiveness and creativity. It has a long, proud and diverse history, from the Swinging Sixties to the Cool Britannia image of the 1990s. Contributing over £20 billion to the UK economy, fashion is a truly great British success story."
Vivienne Westwood said, "I am English, so it is impossible for me to ignore British culture in my designs. The fabrics I use are often traditional British fabrics - English flannel and barathea wool, Irish linen, Scottish tartan. These fabrics benefit from classic British manufacturing techniques, as represented by the Savile Row tradition."
TV host and the evening's MC Chen Luyu said, "Vivienne Westwood is one of Britain's most renowned fashion icons. Her designs are not just avant-garde but also perfectly embody elegance, as tonight's red carpet show demonstrates. She is indisputably one of the finest symbols of British culture, and I'm delighted to wear one of her gowns tonight. I wholeheartedly agree with her comment that 'Dressing fabulously will make your life more fun.'
Published 6 September 2012