Press release
Vital mentoring support for female entrepreneurs
Government announces additional mentoring support for women business owners.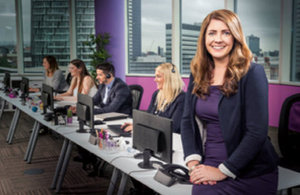 Female business owners across the country will benefit from additional mentoring support, Women and Equalities Minister Jo Swinson will announce this evening (18 November 2014), at the British Bankers' Association (BBA) 2014 Mentorsme Awards for Excellence in Women's Enterprise Mentoring.
During Global Entrepreneurship Week, the government is announcing £150,000 to fund 'Meet a Mentor' events which will link up female-led businesses, at both the start-up phase and at the point when they are exploring business growth, with mentors.
This builds on the success of the government's 'Get Mentoring' project, delivered by the UK Sector Skills Body for Enterprise (SFEDI), which successfully recruited and trained over 15,000 volunteers from the small business community, including over 6,000 mentors who were trained to specifically support female entrepreneurs.
Women and Equalities Minister, Jo Swinson, will say tonight:
It is vital that we support female entrepreneurs. There are more women-led businesses in the UK than ever before, and we know that if women were setting up and running new businesses at the same rate as men, our economy could benefit from 1 million more entrepreneurs.

Mentoring is key to this. It helps to build confidence, develop key business skills and provides a network of contacts for those starting out. That's why we are funding a series of mentoring events across the UK, launching tomorrow on Women's Entrepreneurship Day.
This year's Mentorsme awards - run by the BBA on behalf of the founding UK banks - will take place at the BT Tower this evening, and will focus on the role that mentoring plays in supporting women-owned or women-led businesses. Tonight is a celebration of their success in business while recognising the contribution mentoring makes to that success.
The awards are being supported by the Women's Business Council (WBC), as part of their focus on increasing the levels of women's entrepreneurship, and hosted by BT and WBC member Emer Timmons, head of BT global services.
Emer Timmons, President BT Global Services and member of the Women's Business Council, said:
BT is delighted to host the prestigious Mentorsme Excellence in Women's Enterprise Mentoring Awards. The awards will showcase best practice in the BBA's Mentorsme scheme and the important role mentoring plays in supporting female owned or led businesses.

It is fitting to celebrate these successes and to welcome additional government funding for women entrepreneurs during Global Entrepreneurship Week.
Irene Graham, Executive Director of Business Finance at the BBA, said:
We all have mentors in life, but in business - whether young or established - there is often a need for some outside guidance. Entrepreneurs don't always have colleagues or peers to ask for help or act as a critical friend.

Over the past 3 years the Mentorsme programme - including bank mentors - has been key in helping thousands of companies find the right mentor to help them navigate their path to growth and success.

This year's Mentorsme awards are unique in that they celebrate women-led businesses, which contribute billions to our economy each year. The BBA is delighted to have again organised this exciting event and is committed to continue to support a flourishing and diverse business community across the country.
To celebrate Women's Entrepreneurship Day tomorrow (19 November 2014) the first 'Meet a Mentor' event will be launched at the Kensington Roof Gardens, London, and is already oversubscribed.
The events will be delivered by SFEDI and the Institute of Enterprise and Entrepreneurs (IOEE) who will run a total of 12 events across the UK from now until March 2015. Mentorsme and bank mentors will also participate in these events.
Ruth Lowbridge, Executive Chair of SFEDI, the UK Sector Skills Body for Enterprise and Enterprise Support, said:
Every day we help business owners source mentoring support through our events, programmes and through our Institute's online business community, and it is evident to us that this form of support is absolutely critical in boosting confidence and enabling businesses to achieve their potential. We're hugely excited about the programme of 12 'Meet a Mentor' events we have planned for female led businesses as we know that they will make a real difference to the start up and success rates of those businesses.
Notes to editors
The government provided £1.9m of funding towards the 'Get Mentoring' project which was run by SFEDI. These mentors can be accessed on the Mentorsme website. This is an online portal for small and medium sized enterprises looking for mentoring services. It was set up by the BBA in 2012 and funded by the major banks.
The Women's Business Council (WBC) was established by the government in 2011 - it is supported by Government Equalities Office and overseen by Ministers -to look at ways of maximising women's contribution to economic growth and assesses priorities in removing the barriers that women face in playing a full part in business and the workplace. Further information can be found here: Women's Business Council.
Mentorsme is run by the BBA on behalf of the founding UK banks:

Barclays
HSBC
Lloyds Banking Group
Royal Bank of Scotland
Santander in order to help businesses start up, grow and develop and help access the skills and finance they need. It is the first UK-wide portal for enterprise mentoring and helps connect businesses with mentoring organisations local to them, to take forward a mentoring relationship suitably matched to their needs. Mentorsme now has over 120 mentoring organisations that house around 27,000 enterprise mentors.

The Mentorsme awards are aimed at businesses in any sector which are owned, managed or led by women, and who have had a mentor during the last 12 to 18 months. No gender restrictions have applied to the mentor.
The SFEDI Group is the government recognised Sector Skills Organisation for enterprise and business support. Established in 1996 it has earned recognition as the experts in skills and know-how development for small, medium and micro businesses. The group includes SFEDI, SFEDI Awards, SFEDI Solutions and the IOEE.
The IOEE is the first learning institute dedicated to developing and recognising the skills of enterprising people. It supports enterprise professionals in developing their skills and knowledge to a high standard to provide outstanding enterprise support.
For further information on the government's work on women in enterprise and the Women's Business Council, or to bid for interviews with Jo Swinson and/or WBC members, contact the GEO press office on 020 7783 8300 or Gina Malatesta.
For information on Mentorsme and tonight's awards, or to bid to speak Irene Graham or any mentors and mentees, contact Emily Hoquee at the BBA on 07803 201 087
For further information from SFEDI on the 'Meet a Mentor' events or to bid to speak to Ruth Lowbridge contact Jenny Pears.
Interviews with mentors and mentees are available upon request. Read some Mentorsme case studies.
Published 18 November 2014