Vital lifeline to British territory to be repaired
A storm-damaged harbour on the remote British Overseas Territory of Tristan Da Cunha is to undergo emergency repairs in an effort to prevent the island from being cut off from its only access to outside supplies and help.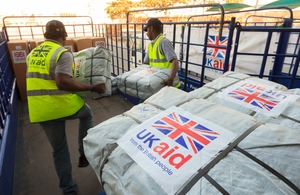 The UK Government is to help fix the crumbling Calshot harbour before the impending southern hemisphere winter storms hit, securing the only gateway to the island for its residents and supply boats.
The harbour is vital to one of the most remote inhabited islands in the world but was severely damaged in a storm earlier this year.
Expert analysis by construction consultants WSP Group has shown that without urgent repair work, the harbour will be at risk of further damage or even being rendered unusable during harsh winter weather in the South Atlantic. The repair work will help protect the island's fishing industry, one of its few sources of revenue.
The Department for International Development will procure fifty 10-tonne concrete 'dolosse' blocks specially designed to protect the most vulnerable part of the harbour from future storms. The interlocking blocks are designed to break waves, and deflect their power from the harbour itself. A crane will also be purchased to position them. This equipment will enhance the islanders' ability to make their own repairs in future.
Shipping is the sole means of regular access to the island.  Islanders - who have British citizenship - therefore rely on the harbour to survive and make a living.
Without a harbour, tourism and fishing - the major sources of income on the island - would be severely reduced.  Islanders would not be able to receive regular supplies, cutting off their means of earning a living.
Without this means of generating income, the people of Tristan Da Cunha will require a significant extra subsidy from British taxpayers every year.
Andrew Mitchell, Secretary of State for International Development said:
"Without these repairs, Calshot Harbour will deteriorate further and could be completely destroyed.
"Emergency repairs will ensure that life on the island can continue and will prevent more costly damage.
"The British Government will honour our commitment to our citizens on Tristan Da Cunha and continue to help them stand on their on two feet."
Published 18 November 2010