World news story
VisitBritain Extends its Reach to New GCC Markets
Visits from the GCC to the UK show a 30% increase while spend doubles over the last 5 years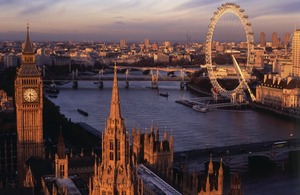 Early this week, VisitBritain concluded a series of meetings with its strategic partners and key market influencers in Saudi Arabia and Qatar to consult on Britain's recently launched tourism growth strategy for the GCC Region.
Building on Britain's strong position and historic connections in the GCC, VisitBritain's Director of Strategy and Communications, Patricia Yates, alongside Regional Manager for Asia Pacific and Middle East, Sumathi Ramanathan, met with officials from the UK Embassies, British Council, UK Border Agency and UK Trade and Investment as well as decision makers in the travel and tourism industry in Riyadh and Doha to gain their input on Britain's new Tourism Growth Strategy launched last April.
Tourism plays a major role in the UK economy. It contributes £115 billion (equivalent to AED 656 billion) to UK GDP, and provides employment for 2.6 million people. In 2012, the UK enjoyed a record year where £18.6 billion (equivalent to AED 106 billion) were injected into the economy from overseas visitors, of which £1.2 (equivalent to AED 6.8 billion) came from the GCC countries.
Accordingly, a key component of the growth strategy involved plans for VisitBritain to expand its activities in the GCC region including moving its regional hub to Dubai. A move that will enable VisitBritain to reach across key cities in its main resource markets including Dubai, Abu Dhabi, Riyadh, Jeddah, Kuwait City and Doha. These markets are becoming increasingly important, representing 22% of the total spend from Asia Pacific and Middle East countries.
VisitBritain conducted a similar consultation late last year, whereby it gathered responses from market influencers and its strategic partners that helped shape the new strategy. Similarly, VisitBritain is now revisiting with the same industry partners with the ambition that it will deliver a more effective strategy in the Region by engaging with key decision makers on territory.
Michael O'Neill, HM Ambassador to Qatar, stated: "We are delighted to welcome visitors from across the world to Britain. It was great to see the increase in visitor numbers in 2012 for Her Majesty the Queen's Diamond Jubilee and the London Olympic and Paralympic Games. We want that growth to continue. We will continue to work on practical steps for that, including seeking ways to improve our visa arrangements. The British Embassy is committed to work closely on these issues with VisitBritain, the British Council and our partners in Qatar."
Patricia Yates, VisitBritain's Director of Strategy and Communications, said: "Tourism is a main pillar in our Government's economic growth strategy. It adds £115 billion (equivalent to AED 656 billion) to our economy annually, and it is our priority to ensure we retain a competitive edge over other destinations around the world."
"With the GCC countries signifying great potential for inbound visits to Britain, a larger network in this Region will enable VisitBritain to engage more effectively with our key segments, high spending Arab families and the increasingly important youth market," added Yates.
Ayman Morrar, the General Manager of Aamal Travel, who was present at the consultation meeting in Qatar, commented: "It was a great chance for us to touch base with VisitBritain's team and get updated on the efforts and activities conducted in the GCC Region in general and specifically in Qatar. We have shared our views on some of the challenges and obstacles as well as the opportunities. We all agreed that we should creatively offer some of the many different products and places that Britain has to offer that may cater to different types of holidays in addition to the main attraction, London of course. The meeting was very constructive in terms of unifying our efforts and approach to maximize business to UK, and we thank VisitBritain for the initiative."
Published 13 June 2013
Last updated 13 June 2013
+ show all updates
amended Summary field
First published.