World news story
Minister for Europe visits Lisbon
David Lidington visited Lisbon on 10 December to discuss EU growth and competitiveness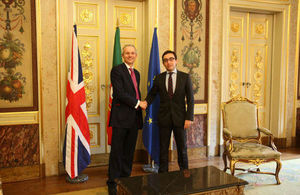 During his visit, the UK Minister for Europe met his Portuguese opposite number Bruno Maçães, State Secretary for European Affairs; Carlos Moedas, State Secretary Assistant to the Prime Minister; and Miguel Morais Leitão, State Secretary Assistant to the Deputy Prime Minister.
The key themes covered in the bilateral talks were EU growth and the reforms needed to make Europe more competitive, democratic and flexible. This includes completing the digital single market, promoting free trade (eg the EU's Trans Atlantic Trade and Investment Partnership with the US), and reducing unnecessary regulation on business, as recommended by PM David Cameron's Business Taskforce. Mr Lidington commented that he was impressed by the level of common ground between UK and Portugal on promoting European competitiveness, and reiterated the UK Government's commitment to EU membership, though stressing the need for changes in Europe.
The Minister learned more from his interlocutors about Portugal's adjustment process and the good progress achieved so far in terms of reforms. He reiterated UK's interest in promoting partnerships between British SMEs and Portuguese companies to enter Portuguese speaking markets in Africa and Brazil. The visit programme included two media engagements and a speech during a dinner debate about 'Britain in Europe' at the British Ambassador's Residence, with the participation of guests from Government, academia, banking, business and political commentary.
You will be able to see the interview in a future Sociedade das Nações programme on SIC Notícias online.
Published 12 December 2013