World news story
Visit to Hong Kong by Chancellor of the Exchequer George Osborne
The UK Chancellor of the Exchequer Mr George Osborne visited Hong Kong from 19 to 20 February.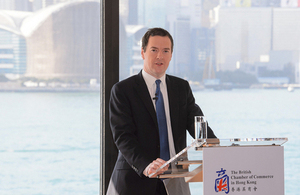 In a major speech to the British Chamber of Commerce, Mr Osborne emphasised the special ties between the UK and Hong Kong. Announcing that London will host the first International RMB Conference in London this summer, Mr Osborne said cooperation with Hong Kong had strengthened London's position as the Western centre of RMB trading.
Underlining the importance of Chinese investment and access to the UK, Mr Osborne said:
What I want Britain to do is to build on this special relationship with Hong Kong, so that together we can be a bridge – and not a barrier – to trade between mainland China and the world.
Mr Osborne also majored on collaboration between financial services firms in the UK and China, announcing the launch of a new investment product on the London Stock Exchange to allow people in the West to invest directly in Renminbi in Chinese companies. He also announced that more British retailers would accept payments in RMB; a new collaborative programme between leading universities in the UK and mainland China; and a new grant to support Chinese language teaching in schools in London.
On the UK economy, the Chancellor said the UK was "growing faster than any other major European economy" and securing more investment from China and the rest of the world than any other country in the EU.
Emphasising the inextricable links between the economies of Hong Kong and the UK, Mr Osborne said that British firms wanted to do business in Hong Kong because of Hong Kong's stable government and strong legal system as well as its prosperity.
Hong Kong's success is underpinned by its autonomy, rights and freedoms - guaranteed by the Joint Declaration - and the best way to preserve Hong Kong's strengths is through a transition to universal suffrage which meets the aspirations of the people of Hong Kong.
During his visit the Chancellor called on Hong Kong SAR Government Chief Executive Leung Chun-ying and key business figures to discuss business opportunities for innovative UK firms. He also visited the West Kowloon Terminus construction site, an example of collaboration between Hong Kong and British firms on major infrastructure projects and met leading inward investors.
Further information
Read more about the Chancellor George Osborne's biography and ministerial responsibilities
Follow the British Consulate-General Hong Kong on Facebook and Flickr
Follow the British Consulate-General Hong Kong on twitter @UKinHongKong
Published 20 February 2014