Visit to Estonia by Francis Maude, UK Cabinet Office Minister with lead responsibility for cyber issues
From 1-3 May, the Right Honourable Francis Maude MP will visit Estonia on the invitation of President Toomas Hendrik Ilves, following their initial meeting at the London Cyber Conference in November 2011.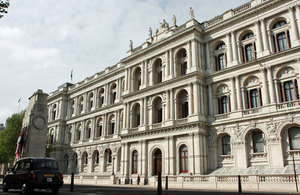 During his visit, Mr Maude will have an extended meeting with President Ilves. The Minister will also meet Prime Minister Andrus Ansip, Riigikogu members, key government officials, independent experts, specialists and entrepreneurs in the cyber sector. Topics under discussion will include e-governance, cyber security and the advancement of the EU Digital Single Market.
The Minister will visit the NATO Cyber Defence Centre of Excellence, the State Information Systems Authority (RIA), the Cyber Defence League, the Estonian headquarters of Skype, the ICT Demo Centre, Tehnopol Science Park and the Startup Wiseguys business accelerator. He will deliver a speech at the International Centre for Defence Studies, entitled 'Our response to cyber: working together to meet the challenges and opportunities of a digital world'.
"I believe it is a very good thing for our already close partnership that such a senior British Minister as Francis Maude is visiting Estonia", said British Ambassador Chris Holtby. "The Minister is extremely keen to visit, as he knows already of the extent of Estonia's achievement in e-governance, cyber security and the broader Information and Communications Technology sector. This visit will enable the Minister and the very senior officials that he will bring with him to discover how Estonia has been able to move forwards so fast, and what lessons this offers the UK in these areas. I am sure this visit will strengthen the positive co-operation between us, both Government to Government and in the commercial sector."
The Right Honourable Francis Maude MP was appointed Minister for the Cabinet Office in 2010. His biography is available here.
Search the news archive
Published 2 May 2012