World news story
Visit of Deputy Andrew Tate to British volunteers in Honduras
Deputy Chief of Mission to the British Embassy in Honduras, Andrew Tate, visited the Intibuca department to meet with 19 young British volunteers.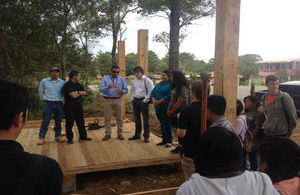 The young British volunteers are working with indigenous women and youngsters to empower them in entrepreneurial skills and sustainable development.
The volunteers are part of a UK-funded programme, International Citizen Service (ICS), which supports youngsters to make a real difference in some of the world's poorest countries. The ICS programme is entirely funded by the UK Department for International Development (DFID).
Deputy Chief Tate visited in the morning the first project in the "Carrizal" community where nine British volunteers are working with Honduran youngsters to help them in the preparation of food and the development of a business venture for the opening of an eatery to sell these food products.
This project is being implemented by World Vision and aims to help families undertake and exploit economic opportunities throughout the development of skills and knowledge in themes such as empowerment and employability.
Later that day, Deputy Chief Tate arrived at a local school in "La Esperanza" where he met with ten more British volunteers who are participating in a project implemented by the Honduran organisation Libre Expresion.
This initiative seeks to empower indigenous Lenca women in developing and strengthening their entrepreneurial skills, generating economic initiatives, and improving their economic conditions.
Both projects in Intibuca are being supported by Progressio, a registered charity that receives funding from DFID, international and UK trusts and grant-making bodies, and individual supporters.
Published 26 August 2015