Visit highlights Afghanistan as 'most urgent overseas priority'
The Foreign Secretary William Hague has visited Afghanistan with Secretary of State for Defence Dr Liam Fox and International Development Secretary Andrew Mitchell.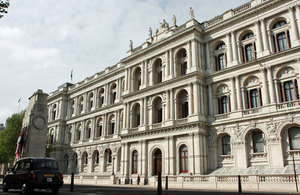 The Secretaries of State for Foreign and Commonwealth Affairs, Defence, and International Development met President Karzai, relevant Ministers and senior officials in order to gain a better understanding of the situation in Afghanistan, of the options going forward, and of the further work we need to do. They also met British troops and civilian staff working in the Helmand Province.
Speaking on the BBC Politics Show today, the Foreign Secretary said he had a "very useful" visit and paid tribute to the "amazing work" undertaken by British troops and civilian staff across Afghanistan.
Read full transcript of his interview.
The Foreign Secretary also spoke to BBC news yesterday about his trip and said:
'Afghanistan will find a steady friend in the new Government in Britain, in helping to tackle the problems that we have suffered in this area of the world for too long.'
The international effort to bring about a more stable and secure Afghanistan is vital to our national security. That is why this Government's most urgent overseas priority is to focus on the strategy for Afghanistan, and why a tripartite visit was organised so quickly.
Published 28 May 2010