Violence against women: 'enough is enough'
Two Home Office ministers write about ending violence against women and girls.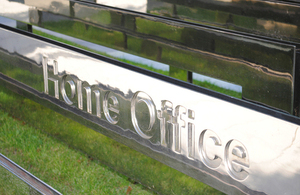 In Pakistan last November, 15 year old Malala Yousafzai was shot for simply trying to go to school and for being brave enough to speak up about the right to education for all.
A month later, international outrage followed the brutal gang-rape and murder of a young student in Delhi.
We know that these high-profile tragedies  are the tip of an enormous iceberg of violations against women and girls across the world.  Globally, 1 in 3 women and girls will be beaten or sexually abused in their lifetime.
But this is not just an overseas issue - it is happening here too.
Last year across England and Wales, over one million women were victims of domestic abuse and 400,000 were victims of sexual assault. The country was left reeling as the full depravity of TV presenter Jimmy Savile emerged.  And we have been sickened as reports emerged about very vulnerable young girls being groomed and abused by organised predatory networks.
This Government is absolutely clear - enough is enough.
We have put tackling violence against women and girls at the heart of what we do across Government.
On coming to power, the coalition Government immediately set out its vision to do more to protect and support victims of domestic and sexual violence; to do more to bring offenders to justice; and, to do more to prevent violence happening in the first place.
We ring-fenced nearly £40million for specialist victim services, and in the last 12 months alone we have introduced new stalking offences, announced the criminalisation of forced marriage and the extension of the definition of domestic violence; piloted new criminal justice approaches like Clare's law; run national teenage rape and relationship abuse campaigns; and opened new rape crisis centres across the country.
This year, the UK is using its presidency of the G8 to promote the Foreign Secretary's initiative on preventing sexual violence in conflict, asking the world's most powerful countries to shatter the culture of impunity for those who rape in warzones.
The Department for International Development is working in 21 countries to directly address violence against women. We have invested in building the evidence base of what works to ensure our efforts are targeted and provide value for money. And we have set out our clear ambition to end female genital mutilation within one generation.
The UK is spearheading an international coalition of like-minded countries at the UN Commission on the Status of Women, taking place now in New York, to agree clear global commitments to eliminate all forms of violence against women.
Free of violence
But there is clearly more we can, and must, do if we are to ensure that women in this country and across the world are afforded dignity, respect and a life free of violence.  This is about protecting fundamental rights and creating a future we can be proud of.
Today, the Government has published its updated action plan on ending all forms of violence against women and girls.  We have updated the plan, because we can never be complacent and because there is more to do. 
We have vowed to do more to support the most under-represented and vulnerable women and girls - those associated with gangs, or those at risk of forced marriage or female genital mutilation.
We have committed to an end-to-end approach to tacking sexual violence and sexual exploitation.  We need to learn and embed the lessons from recent investigations into historic child abuse, ensure all parts of the criminal justice system support victims and give victims greater confidence that they will be believed when they come forward to report such appalling abuse.
We have set out how we can further support the devolution of power to local decision makers, who are best-placed to commission and provide services to victims.
And we have highlighted how we might support innovation and new approaches - in particular preventative approaches that break the cycle of violence and stop violence against women and girls at source.
We must, and will, provide leadership on the national and international stage. Today on International Women's Day we call for everyone to unite against these terrible crimes.
Published 8 March 2013