Press release
Vince Cable signs multi-million pound export deal to China
This deal and future business stemming from the agreement is valued at around £45 million to the British pig industry over the next five years.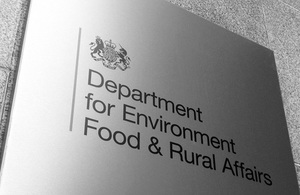 Business Secretary Vince Cable today signed an agreement worth many millions of pounds for the UK economy that will allow the export of British breeding pigs to China, home to half of the world's pig population.
Business Secretary Vince Cable said:
"This agreement gives a valuable boost to the British pig industry and is already delivering results. It is through the hard work of UK Trade & Investment and the successful Tradeshow Access Programme alongside the work of the British Pig Association and Defra's partnership approach with the UK livestock industry that this deal has been secured."
Agriculture Minister Jim Paice said:
"This will open the doors in China for the export of the UK's world-leading breeding pigs, which are bred and raised to some of the highest welfare standards.
"Along with Scotch Whisky's new protected status and the pork export agreement, this will mean opportunities worth around £160 million for UK food and farming businesses over the next few years."
The Business Secretary signed the agreement alongside Minister Zhi Shuping from China's Administration of Quality Supervision, Inspection and Quarantine (AQSIQ).
Pigs will begin to be flown out shortly, marking the first export of British breeding pigs to China for three years. With artificial insemination techniques, an adult boar can sire 6,000 piglets a year.
Two British firms, JSR Genetics based in Yorkshire and JJ Genetics in Cambridge, are already planning to expand their business in China on the back of the deal.
Agreement has also been reached on health certification to allow a start to be made on the export of UK pigmeat to China. The British Pig Executive says that pig meat exports to China have the potential to rise to over £40 million per annum if all UK meat processing plants are approved.
Notes
The British Pig Association used UKTI's Trade Access Programme to help secure the contracts. UK Trade & Investment provides grants of up to £1,800 for UK firms to participate in overseas trade shows. Grants are available for some 44 shows each year in the food and drink, agricultural and horticultural sectors, such as VIV China last month and Potato Europe in Hannover. Solo grants are also available to eligible companies for trade shows not on this list. To find out more click here:
http://www.ukti.gov.uk/pt_pt/export/accessinginternationalmarkets/tradefairsandexhibitions.html?null

UK Trade & Investment (UKTI) is the government department that helps UK-based companies succeed in the global economy. We also help overseas companies bring their high quality investment to the UK's economy - acknowledged as Europe's best place from which to succeed in global business. UKTI offers expertise and contacts through its extensive network of specialists in the UK, and in British embassies and other diplomatic offices around the world. We provide companies with the tools they require to be competitive on the world stage. For more information on UKTI, visit www.ukti.gov.uk or telephone +44 (0)20 7215 8000. For latest press releases, visit the online newsroom at www.ukti.gov.uk/media. You can also keep in touch with developments at UKTI through www.blog.ukti.gov.uk, www.twitter.com/ukti and www.flickr.com/photos/tags/ukti.
The UK is home to some of the world's leading pig breeding companies and pedigree breeders. UK breeders have succeeded in combining high welfare standards with improved efficiency and reduced environmental impacts. Export customer benefit from these improved genetics and a strong export market allows UK breeders to invest in further improvements for the benefit of their UK customers. For more information contact Marcus Bates at the British Pig Association: 01223 845100 or bpa@britishpigs.org.
The UK Export Certification Partnership (Defra and UK livestock Industry working together) has pioneered a partnership approach to re-opening export markets. Negotiations with AQSIQ, the Chinese quarantine authorities, have involved visits to Beijing by Defra vets, Industry sponsored visits to the UK for Chinese officials and long trail of communications including by UKTI Beijing. For more information about the UKECP project contact admin@ukecp.com.
The new protocol benefits UK exporters and Chinese importers as it uses improved testing conditions delivering better biosecurity guarantees at a greatly reduced cost.
The JSR and JJ Genetics contracts will see pigs sourced from East Anglia, the North East and South East of England as well as Scotland and Northern Ireland.
A protocol has already been signed between Defra and AQSIQ on pig meat. UK food business operators have since been inspected by Chinese authorities and the export certification has now been agreed. UK traders estimate the additional domestic value that can be obtained by having direct access is in the order of 20 to 40p per kilo.
Some of the products to be exported at profit have zero domestic value and even represent a disposal cost to the operator along with the environmental impact of disposal.
Published 8 November 2010