Press release
Vince Cable opens new £50 million business park in Burnley
Vince Cable opens the new government-backed Burnley Bridge Business Park and visits some of Burnley's most successful manufacturers.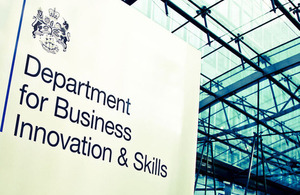 The Business Secretary Vince Cable is opening the new government-backed Burnley Bridge Business Park today (27 February 2014) and visiting some of Burnley's most successful manufacturing companies.
In his speech at the site of the new business park, the Minister is expected to praise the "spirit of enterprise" that the project represents.
It is the largest new development on the M65 corridor for more than a decade, and is expected to create more than 1,400 indirect jobs in the area. The 70-acre site is a £50 million development by Eshton, a Leeds-based commercial property investment and development company, which has received a £2.4 million loan from the government through Lancashire's Growing Places Fund.
Once completed, the park will be served by a new bus route linking it to the centre of Burnley, ensuring excellent accessibility to the town.
Business Secretary Vince Cable said:
It is encouraging to see the growth that is taking place in Burnley. It has weathered the years since the financial crash well and manufacturing in the town is now enjoying a real renaissance.

Today (27 February 2014) I've seen first-hand how the government's industrial strategy is giving businesses both here in Burnley, and all over the country, the confidence to invest, securing highly-skilled jobs and a stronger economy.
The Business Secretary will also visit 4 of the town's manufacturing and engineering firms to see the success of some of the area's fastest-growing companies:
Notes to editors
1.The government's economic policy objective is to achieve 'strong, sustainable and balanced growth that is more evenly shared across the country and between industries'. It set 4 ambitions in the 'Plan for Growth', published at Budget 2011:
to create the most competitive tax system in the G20
to make the UK the best place in Europe to start, finance and grow a business
to encourage investment and exports as a route to a more balanced economy
to create a more educated workforce that is the most flexible in Europe
Work is underway across government to achieve these ambitions, including progress on more than 250 measures as part of the Growth Review. Developing an Industrial Strategy gives new impetus to this work by providing businesses, investors and the public with more clarity about the long-term direction in which the government wants the economy to travel.
2.Burnley was voted the UK's most enterprising area in the government's Enterprising Britain Awards in 2013.
3.In 2012, manufacturing accounted for 22% of jobs in Burnley.
Published 27 February 2014