Vince Cable leads delegation to enhance strategic partnership with Brazil
Secretary of State for Business Dr Vince Cable is to lead a delegation of more than 25 world-class UK companies to Brazil on Tuesday, in the first ministerial visit between the countries since the UK elections in May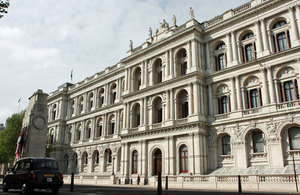 Vince Cable, Secretary of State for Business, Innovation and Skills
With Brazil tipped to become the world's fourth largest economy by 2050, this visit is the second to enact the Coalition Government's pledge to build relationships with key partners for the twenty first century. It follows the Prime Minister David Cameron's successful delegation to India in July.
Dr Cable will engage with business leaders and government representatives over four days in Sao Paulo, Brasilia and Rio de Janeiro. With his Brazilian counterpart, Miguel Jorge, he will work to build closer ties between the countries, co-chairing the annual Joint Economic and Trade Committee (JETCO) together.
Dr Cable will also explore the potential for partnership across a range of key areas, from developing the world-leading expertise that can deliver a successful Olympic Games in London 2012 and Rio 2016, to encouraging industrial cooperation in sectors such as defence and security, energy and advanced engineering.
Speaking today ahead of the visit, Dr Cable said:
"The UK Government has made it a priority to enhance our relationships with our key partners. I have therefore made it an early priority to meet face to face with colleagues in Brazil, which is the growing power of the Americas.
"Brazil is the world's eighth largest economy, accounting for over half of South America's total GDP. I am encouraged to see that UK goods exports to Brazil have more than doubled since 2004 to reach £1.7 billion in 2009, in spite of the downturn. But it is clear to me that there is great untapped potential in our business relationship, and the UK can play an important part as increasing numbers of Brazilian companies seek to internationalise."
UK companies are leaders in many areas of real importance to the Brazilian economy and many already operate here:
In education, for example, Pearson provides educational services to Brazil's growing workforce;
In energy, Shell and Cosan have just signed an agreement to supply biofuel, while BG is the largest foreign investor in oil and gas in Brazil;
In infrastructure, Halcrow has provided consultancy services for the high speed train projects which, when done, will link Rio and Sao Paulo;
In advanced engineering, Rolls Royce and GKN have long been established in Brazil as leading suppliers;
In pharmaceuticals and biotechnology, AstraZeneca and GlaxoSmithkline have also been key players in Brazil.
Media contact
For more information, please contact Darcy Mitchell in UKTI Press Office on 0207 215 4218 or darcy.mitchell@ukti.gsi.gov.uk.
Brazil Factfile
The last 3 years have seen a 500% increase in the number of British companies coming to UK Trade & Investment for help with the Brazilian market.
Brazil is the fifth largest country in the world - bigger than the entire European continent.
Brazil is larger than the continental US and Australia and borders every South Amercia nation except Chile and Ecuador.
Brazil is the 3rd largest producer of space satellites.
Brazil is the world leader in bio-ethanol production. More than three-quarters of the automobiles sold in Brazil have flex-fuel engines, capable of running on petrol, ethanol, or a mixture of the two.
Brazil has the best science base outside the G8.
400 of the world's 500 biggest companies operate in Brazil.
Of the 500 largest corporations of Latin America, 300 are Brazilian.
Brazil is the world's fifth biggest consumer market.
Published 27 August 2010