Press release
Villiers visits South Armagh
Rt Hon Theresa Villiers MP, Secretary of State for Northern Ireland, visited South Armagh to hear about challenges faced by PSNI Policing teams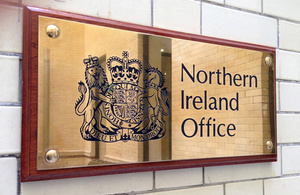 Earlier today the Secretary of State visited Newtownhamilton to hear at first hand the challenges facing PSNI Policing in a rural community. She met the local PSNI Area Commander, Davy Beck, who provided an overview of his team's work in South Armagh.
She also spoke to the PSNI Neighbourhood Policing Team for the area who showed her around Newtownhamilton village where she met a number of locals residents and business people.
Speaking after the visit, Ms Villiers said:
I welcome the PSNI approach to community policing in and around Newtownhamilton and commend the work of all the Officers who carry out their role in a challenging environment on a day to day basis.
Published 13 November 2013