News story
Villers celebrates International Women's Day with the Women's Forum Northern Ireland
The Secretary of State hosted a reception at Hillsborough Castle to mark International Women's Day 2014.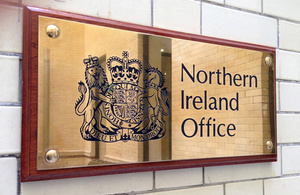 The Secretary of State for Northern Ireland, Rt Hon Theresa Villiers MP today hosted a reception in Hillsborough Castle for the Women's Forum Northern Ireland, marking International Women's day 2014 which falls on 8 March.
The Secretary of State met the outgoing Chair of the Forum, Yvonne Beaton and incoming Chair, Patricia Irvine, who introduced her to several members of the Forum's representative groups to learn about the work that they undertake in Northern Ireland. The Secretary of State was also presented with a booklet outlining the Forum's work over the past 45 years.
Theresa Villiers said:
International Women's day has existed for over 100 years and the theme for this year is 'Inspiring Change', so it is good to know that Women's Forum Northern Ireland is already ahead of the game by having the motto 'Women in Harmony Achieving Change'.
The Women's Forum has just celebrated its 45th anniversary and I congratulate it for all it has achieved and undertaken, especially its pioneering work in its early years when women's voices were rarely heard. I am sure it will continue to go from strength to strength in the coming years.
Patricia Irvine said:
Women's Forum has always sought to increase the contribution of women in public life and to promote equality of opportunity.
While much has been achieved to date, there still remains work to be done. Therefore it is important that our representative women's organisations and individual women continue to work together in harmony to achieve change.
Women's Forum Northern Ireland is a non-political, anti-sectarian umbrella body for women and women's organisations in Northern Ireland. It has no premises or employees and all work is undertaken on a voluntary basis by members. It is funded by annual membership subscriptions, voluntary donations and fund raising events.
See photos from the reception on our Flickr site.
Published 7 March 2014