Views sought on which 2-year-olds should get free early education
A consultation is announced about which 2-year-olds should be entitled to a free early education.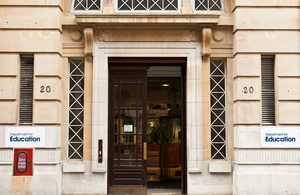 Up to 300,000 babies born this year are set to benefit from 15 hours of free early education each week when they are two years old, as the government announces plans to roll out free early education to more children across England.
Today Sarah Teather, Minister for Children and Families, launched a consultation calling for views on which two year olds should benefit. This is the second phase of the roll-out of free early education to around 40% of 2-year-old children to help prepare them for school and give them the best possible start in life.
In the consultation launched today the government said that 2 year olds from families who meet the criteria for free school meals will continue to be eligible. In addition, the Department for Education proposes that 2-year-old children should get free early education if they:
are in low income families earning no more than £16,190 each year
have special educational needs or a disability
have been in care and been adopted
Nick Clegg, Deputy Prime Minister, said:
A decent early education can make a huge difference to the start of a child's progress, unlocking their potential to help them follow their ambitions.

All children should have a fair chance to get on in life, which is why we're extending free childcare to 40% of two-year-olds. Today's consultation is about making sure we get that right.
Sarah Teather, Minister for Children and Families, said:
There is compelling evidence that early education, through play and stories, helps young children prepare for school in their crucial early years. We have an ambitious programme to roll out free early education and it is vital that this support, backed by funding rising to £760 million by 2014 to 2015, is targeted towards those who need it.

Babies born this year will receive the benefit of high-quality early education in 2 years' time. It's vital that we get this right for their sake. This government is doing all it can to ensure that children in the poorest families are able to achieve what they want to do.
The consultation is launched on the day the minister gave a speech at the Association of Directors of Children's Services conference in Manchester where she said:
Our recent launch of the childcare commission and the millions we're investing in early years are a mark of the government's determination to give every child the best start in life, even against a tough economic backdrop.

This is the right thing to do. It helps create a fairer society and boosts social mobility. The benefits are tangible, real and valued by parents.
From September 2013, under the first phase of the entitlement, the least advantaged 20% of 2-year-olds will receive free early education. The government is trialling the delivery of this first phase in 10 areas in England later this year. The new entitlement for 2-year-olds builds on the universal free entitlement for 3- and 4-year-old children across England.
Notes to editors
The government is currently examining childcare costs in a commission that was announced by the Prime Minister on Tuesday 19 June. This is looking at the effectiveness of current support, wraparound care, best practice from home and abroad, and the impact of bureaucracy. It is also considering the findings of Professor Cathy Nutbrown'sreport, Foundations for Quality - the independent review of early education and childcare qualifications, which looks to enhance quality in the sector. The government will report back on both issues later this year.

Children are entitled to free school meals if their parents receive any of the following benefits: income support; job seekers' allowance; employment and support allowance; or child tax credit with an income of less than £16,190 providing they are not receiving working tax credit.
DfE enquiries
Central newsdesk - for journalists 020 7783 8300
General enquiries - for members of the public 0370 000 2288
Website: www.education.gov.uk/help/contactus
Published 5 July 2012