Press release
Video shows progress on Basingstoke roundabout improvements
A new time-lapse video has been released today (Thursday 18 June) by Highways England showing progress made on improvements to the Black Dam roundabout in Basingstoke, Hampshire.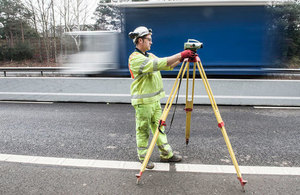 The M3 junction 6 Black Dam roundabout improvements are part of the Government's £317m pinch point programme to remove bottle necks and keep traffic moving. The new layout will improve traffic flow, reduce congestion and increase safety at this busy roundabout.
The video shows how the construction of the new road through the middle of the roundabout has progressed. Work is still required on sections and link roads and it is estimated the scheme will now be completed in the autumn.
Black Dam Timelapse, M3 Junction 6
Highways England Asset Manager Neil Andrew said:
We have made a great deal of progress on these important improvements, but there is still more to do. We've had to move a major gas main and high voltage electrical cables, which has taken longer than planned, but the improvements are well underway and we are looking forward to the improved junction opening to traffic this autumn. I recognise that our work has caused disruption and we are working to continue to reduce the impact on road users, businesses and the local community.
Weekend closures of the northbound M3 link onto the roundabout will be in place over the next two weekends. The southbound link to the M3 will remain open on both weekends.
Relocation of utilities, including a major gas main, high voltage cables and telecommunications equipment, is well advanced, allowing us to progress with the main construction. Some elements of the widening have already finished, including the carriageway construction alterations to Ringway south and the southbound spur to the M3. Progress continues to be made on the A30 London Road Eastbound.
A substantial amount of work is still needed to complete other sections, including drainage, new gantry installation and traffic lights to manage the operation of the junction.
To construct the new layout from the M3 onto the roundabout and reduce further delays, Highways England will be closing the northbound link from the M3 and reducing the roundabout to one lane over two weekends. This will enable us to package a number of activities together such that the work can be completed under two weekend closures rather than a series of overnight lane closures.
The closures will be in place:
from 10pm on Friday 19 June until 5.30am on Monday 22 June
from 10pm on Friday 26 June until 5.30am on Monday 29 June
The southbound link to the M3 will remain open.
Clearly signed diversions will be in place for the exit slip roads via either junction 5 or 7.
General enquiries
Members of the public should contact the Highways England customer contact centre on 0300 123 5000.
Media enquiries
Journalists should contact the Highways England press office on 0844 693 1448 and use the menu to speak to the most appropriate press officer.