Press release
Victims to tell courts impact of crime
Victims will have a louder voice in the Criminal Justice System as they are given the entitlement for the first time to read their Victim Personal Statement out in court, Victims' Minister Damian Green announced today.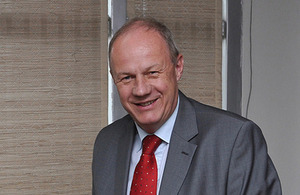 The new, simple Victims' Code published today will make sure that for the first time victims, like those sexually exploited by gangs, can choose to explain personally to the court how a crime has affected them physically, emotionally, financially or in any other way. The judge will then take this into account when determining the sentence.
Written for victims and not the 'system', the Code will ensure victims receive all the support they deserve, every step of the way. It sets out in plain English how to navigate an often confusing and intimidating Criminal Justice System, explaining what victims can expect from the moment they report a crime to the end of a trial, and who to demand help from if it is not provided.
Victims' Minister Damian Green said:
"For too long victims have felt they are treated as an afterthought in the criminal justice system. No more. I am absolutely determined that victims are given back their voice and supported every step of the way.
"The new Victims' Code will for the first time entitle victims to read their Victim Personal Statement out in court. This will mean offenders and the court can be left in no doubt of the full impact of a crime.
"I want to create a tougher justice system. Under this government those who break the law are more likely to go to prison for longer. I'm making sure victims' voices are heard and that criminals no longer get away with just a slap on the wrist."
The statutory Victims' Code will also:
Ensure enhanced support for victims of the most serious crimes, persistently targeted victims or the most vulnerable/intimidated,
Provide extra support to victims of stalking, domestic abuse, terrorism and families bereaved by violent crime,
Ensure all victims are automatically referred to victims' service by the police so that all victims receive consistent and immediate access to support services,
Give victims a clearer means of redress if they are not given the support they deserve,
Have a section written for young people and their parents or guardians so they can understand and take ownership of their journey through the Criminal Justice System, and
For the first time give businesses, who are victims of 9.2million crimes committed each year, will be able to have their say by writing an Impact Statement to explain to the court how a crime has affected them.
Javed Khan, Chief Executive of independent charity Victim Support, said:
"We speak to more than one million victims of crime every year and know how often they feel left on the sidelines in the criminal justice system, unable to make their voices heard.
"We warmly welcome this decision which gives victims the choice to explain to a court in their own words the personal and emotional impacts a crime has had on them and their families, a process we know can help victims cope and recover from crime.
"We believe the new code for victims is a big step towards making the criminal justice system truly responsive to the needs of victims and we look forward to working with Government, the police, courts and other partners to ensure it is effectively implemented."
National Policing Lead on Victims and Witnesses, Assistant Chief Constable Gary Cann, said:
"I am pleased to have been part of the development of what I believe to be a robust new Victims' Code.
"The extension of existing provisions to give enhanced service to victims of the most serious crime and those who have been persistently targeted, will result in a more comprehensive service to victims who are most in need of help and support. And the inclusion of entitlements for victims to make a Victim Personal Statement will ensure that victims have a voice in the criminal justice system.
"I welcome the publication of the new Code today and the police service looks forward to playing its part in putting the new Code into action."
The Victims' Code will come in to force in December 2013 and follows a six week consultation that closed on 10 May 2012.
Notes to editors:
For more information contact the Ministry of Justice press office on 0203 3343540.
The Victims' Code will be laid in parliament on 29 October 2013.
View the response to the consultation Improving the Code of Practice for Victims of Crime
Published 29 October 2013