News story
'Veterans First' wins mental health award
A MOD partnership mental health team has been recognised for their efforts in supporting our armed forces and their families.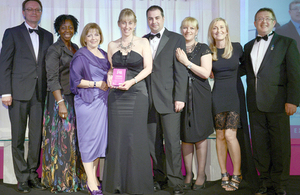 Between October and December 2013, over 1,000 armed forces patients were diagnosed with a mental health issue.
The well-being of servicemen and women is a priority for the government, and, with an investment of around £7.4 million into mental health, MOD has worked hard to improve the level of care so that help is available for those who need it.
One community health team in particular, Veterans First, were recently recognised for the fantastic work they do in supporting our armed forces when they were presented with the mental health award at the Nursing Standard Nurse Awards on Friday, 9 May.
The award recognises and celebrates nurses who have improved the mental health and lives of the patients they care for.
Veterans First, part of the North Essex Veterans Mental Health Network (NEVMHN), is a specialist secondary care mental health team that provides individuals with care plans suited to their needs.
The NEVMHN was established in 2011 following concerns raised by 2 members of the military mental health team that ongoing care for veterans in the Colchester area was not as supportive as it could be.
Today, it couldn't be a more different story. Following a successful bid for funding from the Department of Health, Veterans First was set up, and they are now responsible for raising awareness about the mental health needs of veterans across the north Essex area.
The team, working in close partnership with MOD, other NHS teams and charitable organisations such as Combat Stress, promotes recovery by assisting veterans and those in transition from the military to adjust to civilian life.
They provide access to local services that help with resettlement, training, employment, housing, social integration and health and well-being. Many members of the team are themselves ex-servicemen and women.
It is this kind of support, along with a 100% positive rating for patient satisfaction for 2 years running, that made the Veterans First team a worthy winner of the Nursing Standard Nurse Award for mental health.
Diane Palmer, co-founder of the NEVMHN, said:
I am delighted that Veterans First has received such a prestigious award and national recognition for the collaborative approach it has taken.

We work in true partnership with MOD, Combat Stress, Help for Heroes, Mind, the Royal British Legion, the Warrior Programme, the Invicta Foundation and many other agencies to provide holistic mental health support to military personnel and veterans in north Essex.
Mental health issues can be treated. MOD, along with charities like Combat Stress, and the Department of Health have a great deal of information, support and advice available for people suffering mental healthcare issues.
Published 14 May 2014