News story
Vessel owner and master guilty of illegal fishing in Lyme Bay
A fishing vessel owner and master have been found guilty of illegally fishing for scallops in a protected area of Lyme Bay.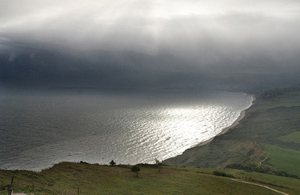 On 6 October Exeter Magistrates Court heard how in May 2013 the vessel Marina (BM190) was observed fishing for scallops in the Lyme Bay designated area by a UK Border Force vessel, HMC Valiant.
Under the Lyme Bay Designated Area (Fishing Restrictions) Order, which came into effect in July 2008, dredging for shellfish and demersal trawling has been prohibited in a designated 60 square mile area of Lyme Bay. Evidence heard by the court included evidence from Natural England on the importance of this protected area.
The Marina's owner Stephen Hammond and master Daniel Hammond did not attend court on 6 October and had previously pleaded not guilty at an earlier hearing at Exeter Magistrates Court on the 27 May 2014.
After finding them guilty the court ordered Stephen Hammond to pay a total of £5,620, including a fine of £3,000, costs of £2,500 and a victim surcharge of £120. Daniel Hammond was ordered to pay £6,620, including a fine of £4,000, costs of £2,500 and a £120 victim surcharge.
Rachel Irish, Senior Marine Officer, for the Marine Management Organisation said:
"Lyme Bay is an important marine habitat designated to protect rocky reef habitats and species from damage by activities such as bottom-towed gear fishing.
"This case shows we are committed to protecting Lyme Bay, in particular by working with other authorities, such as the UK Border Force, to do so."
(Photo above by Alan Smith on Wikimedia Commons. Used under Creative Commons.)
Published 9 October 2014