News story
Van Dyck self-portrait saved for the nation
National Portrait Gallery and Art Fund appeal raises £10 million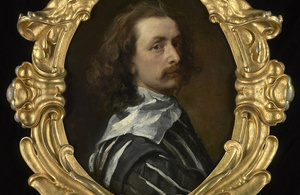 Thanks to a Heritage Lottery Fund grant of £6.3 million Van Dyck's last self-portrait has been saved for the nation and acquired by the National Portrait Gallery.
The grant follows a public appeal in which over 10,000 people made individual donations, and makes it one of the most successful campaigns for a work of art in the last hundred years.
Culture Minister Ed Vaizey, who placed a temporary export bar on the work to allow fund-raising to save it to take place, said:
This is fantastic news. Thanks to the Heritage Lottery Fund, The Art Fund and countless donations from individuals and groups, this wonderful picture – a masterpiece by any standards – will be enjoyed, free of charge, in the National Portrait Gallery for many generations to come.
National tour
The portrait will remain on display at the National Portrait Gallery until the end of August before research and conservation work are undertaken. The painting will then embark on a nationwide tour from January 2015 to six museums and galleries across the country including Turner Contemporary, Margate, Manchester Art Gallery, and The Scottish National Portrait Gallery, Edinburgh.
Published 1 May 2014