World news story
Uzbekistan participates in the Global Summit, ESVI
Uzbekistan Participates in the Global Summit to End Sexual Violence in Conflict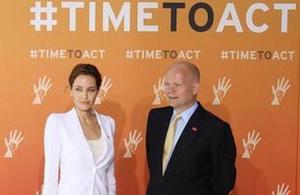 The Global Summit to End Sexual Violence in Conflict will take place in London on 10 – 13 June 2014. British Foreign Secretary William Hague will co-chair the summit with Angelina Jolie, Special Envoy for the UN High Commissioner for Refugees. It will be the biggest global meeting on this issue and it aims to creating irreversible momentum against sexual violence in conflict through practical action that benefits those affected.
The 150 states that have endorsed the UN Declaration of Commitment to End Sexual Violence in Conflict are invited to attend the Summit. A large number of legal, military and judicial practitioners and representatives from multilateral organisations, NGOs and civil society will participate in the Summit and contribute to its work. The Summit will identify specific actions for the international community where progress is necessary to end sexual violence in conflict.
The Summit will launch the first International Protocol on the Documentation and Investigation of Sexual Violence in Conflict. The Protocol will help investigators preserve information and evidence in the aftermath of an attack, improve the chances of someone being successfully prosecuted later, and protect victims and survivors from further trauma. In addition, the Summit aims to secure agreement to revising military doctrine and training designed to prevent use of sexual violence in conflict; providing new support to local and grassroots organisations and human rights defenders which work at the heart of the communities most affected by conflict; improving support for survivors, including in humanitarian contexts; and forming new partnerships to support conflict-affected countries.
Uzbekistan was the first Central Asian state to endorse the UN Declaration of Commitment to End Sexual Violence in Conflict. Uzbekistan will be represented at the Summit by Uzbekistan's Ambassador to the United Kingdom, Mr Otabek Akbarov.
Published 11 June 2014