US charter schools experts to speak at free schools conference
Mike Feinberg to speak to teachers, charities, parents and other groups planning to set up free schools.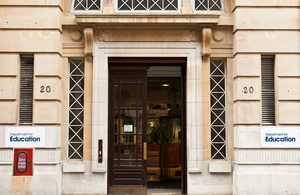 Michael Gove, Secretary of State for Education, will tomorrow address hundreds of teachers, charities and parents at the first ever free schools conference. He will be joined by US education experts and teachers who have set up charter schools. Charter schools are the US equivalent of Free Schools. They have been championed by both President Barack Obama and Republicans such as Jeb Bush, as a way of improving education for the poorest in society.
The conference comes as new figures show increasing demand from teachers, parents and charities to set up schools.
The Coalition Government announced:
there have now been 249 proposals from groups keen to set up a Free School
35 groups have now progressed to the next stage of the process and are developing a full business case and plan.
The Free Schools conference will bring together ministers with around 400 teachers, charities, parents and other groups from across the country planning to set up Free Schools. It will be an opportunity for the groups to learn from successful charter schools in the US and there will be workshops on setting up Free Schools run during the day.
Attending alongside Michael Gove will be Mike Feinberg from the Knowledge is Power Programme (KIPP), one of the most successful chains of charter schools in America. Mike is a teacher who decided to set up a charter school in inner city Houston. It was so successful that there are now 99 KIPP charter schools across the US, all providing a high-quality education in the most deprived areas.
Joel Klein, former Chancellor of the New York City Department of Education, will also be speaking at the conference. Joel is a former adviser to President Bill Clinton. He championed charter schools in his time in office and successfully improved the education of thousands of underprivileged children.
Michael Gove said:
A good school can transform a child's life and help them achieve things they may never have imagined. In this country, too often it is the poorest children who miss out while richer families can buy their way to good education via private schools or expensive houses. Free Schools will give all parents the option of a good local school with great teaching, strong discipline and small class sizes.
Mike Feinberg, co-founder of KIPP, said:
We wanted to give students in under-served communities an opportunity for success in life. That goal led us to founding the Knowledge is Power Programme (KIPP) in 1994. There are now 99 schools across America that give children from low-income families a better education, proving that demographics do not define destiny. I'm excited that Free Schools will be opening up in England and offering the same possibilities.
Joel Klein, former Chancellor of the New York City Department of Education, said:
Charter schools have given thousands of underprivileged children across America a better start in life – providing them with an education that previously was simply not available to them. I'm excited by the opportunities that Free Schools will give children of all backgrounds in England and I'm looking forward to sharing my experiences on how to achieve this at the conference.
DfE enquiries
Central newsdesk - for journalists 020 7783 8300
General enquiries - for members of the public 0370 000 2288
Published 28 January 2011