Press release
Urgent action needed to prevent famine in Yemen, warns Justine Greening
International Development Secretary sets out £20 million package of emergency UK support and calls on other countries to also step up.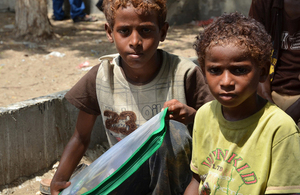 The lack of international action on the crisis in Yemen shows worrying parallels with the delayed response to the famine in Somalia that killed more than a quarter of a million people, Justine Greening warned today.
The International Development Secretary set out a package of urgent support from the UK including £20 million in new life saving aid. And she highlighted the scale of the growing humanitarian crisis in Yemen, which the UN has warned is now on the brink of famine, urging the international community to act before it is too late.
Ms. Greening also announced that the UK would co-host an international meeting on the crisis in New York tomorrow (28 September) to agree a rapid and concerted response to the crisis from the international community.
Justine Greening said:
The world cannot close its eyes to the threat of famine in Yemen. We need urgent action now to prevent thousands of needless deaths. Ultimately, only a ceasefire and a durable political process can resolve this crisis. But in the short term there are practical steps that can and will save lives.

We need imports of fuel, food and other vital supplies to flow into Yemen in much larger quantities. Aid agencies must get better access within Yemen so they can save lives. And other countries must follow our lead and step up with urgently needed new funding.

The famine in Somalia in 2011 showed us the human cost of the international community standing back and not acting until the worst had happened. Meanwhile, the Syrian refugee crisis highlights the impact of leaving a humanitarian disaster under-funded. We need to learn those lessons in Yemen. It is not too late to prevent a worsening disaster, but time is rapidly running out.
Ongoing fighting in Yemen is disrupting the delivery of essential fuel and food to those most in need, putting millions of lives at risk. Four out of every five Yemenis – more than 80 per cent of the population – are in desperate need of humanitarian assistance and nearly 1.5 million people have been displaced by fighting. The UN has warned that across the country six million people face critical food shortages and that 96,000 children are now starving in Hodeidah alone.
The £20 million in funding committed by the International Development Secretary today takes the total committed by the UK in response to the crisis to £75 million. Only Saudi Arabia, the United Arab Emirates and the US have pledged more.
The new funding will go to key partner agencies including the World Food Programme, UNICEF and NGOs operating on the ground via UN OCHA's (Office for the Coordination of Humanitarian Affairs) Yemen Humanitarian Pooled Fund.
The support will provide the most vulnerable people, including those forced to flee their homes, with life-saving food, water and sanitation, nutrition and healthcare. This will include:
targeting food insecure families across 19 governorates in Yemen with emergency food assistance;
treating children with severe acute malnutrition in their communities and in health facilities – for example by providing therapeutic food and drugs;
providing internally displaced persons with access to safe water supplies and critical hygiene items, including trucking clean water to areas of need and distributing hygiene kits;
screening children for potentially fatal childhood infections such as malaria, diarrhoea and acute respiratory infections and treating them through mobile health clinics; and
providing antenatal, delivery and postpartum care to pregnant and lactating women.
The UK's international meeting on Yemen
Justine Greening will co-host a humanitarian event on Yemen on 28 September as part of the UN General Assembly in New York. The other hosts will be Stephen O'Brien, Under-Secretary-General and Emergency Relief Coordinator at UN OCHA and Hesham Youssef, Assistant Secretary General for Humanitarian Affairs at the Organisation for Islamic Cooperation (OIC).
The event will aim to raise the profile of the Yemen crisis, agree on key response priorities, and galvanise additional funding. Key response priorities are:
to restore commercial shipping to pre-conflict levels, with access to all of Yemen's ports for vital food, fuel and medical supplies;
to encourage all parties to the conflict to facilitate humanitarian access for humanitarian agencies and to take all necessary steps to prevent civilian casualties and avoid damage to critical civilian infrastructure - including airports, sea ports, fuel distribution sites and key roads, all of which are essential for aid deliveries; and
to ensure the international community steps up its response and supports the UN's central role in managing and co-ordinating the international humanitarian response.
Notes to editors
To date, close to 4,500 people have been killed and a further 23,000 have been wounded, many of them civilians. Nearly 1.5 million people have been displaced within Yemen since March; many families are living without access to basic services.
The latest UN estimates show the humanitarian crisis has reached emergency levels, with more than 21 million people now in need of assistance. Millions of Yemenis are going without food, fuel, water and medicine. More than 12 million people – half of the population - are struggling to find enough food to eat. Of these, 6 million people are facing severe food shortages, which could place them at risk of famine if the situation does not improve.
Fuel is vital to transport supplies, power hospitals and pump clean water, but the ongoing conflict means that fuel import levels in recent months have been well below what is needed. Yemen is also dependent on imports for 90 per cent of its food and fuel.
With the new £20 million commitment bringing the total UK contribution to £75 million, the UK is now the fourth largest donor to the crisis in Yemen. UK support provides life-saving assistance to the most vulnerable people - including those most affected by the conflict - by providing medical supplies, water, food and emergency shelter, as well as supporting refugees and migrants.
Drought and conflict in Somalia led to famine being formally declared in 2011. Between 2010 and 2012, nearly 260,000 Somalians died, making it one of the worst famines in the last 25 years
General media queries
Follow the DFID Media office on Twitter - @DFID_Press
Published 27 September 2015