Updated: British Armed Forces launch strike against Libyan air defence systems
A Royal Navy submarine and RAF Tornado jets have participated in coordinated strikes against key Libyan military installations as part of the coalition plan to enforce UN Resolution 1973.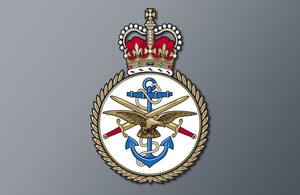 The Chief of Defence Staff's Strategic Communications Officer Major General John Lorimer said:
British Armed Forces, as authorised by the UN Security Council Resolution 1973, have participated in a co-ordinated strike against Libyan air defence systems.
"In addition to the Tomahawk Land Attack Missiles (TLAM) launched from a Trafalgar Class submarine, I can now confirm that the RAF has also launched Stormshadow missiles from a number of Tornado GR4 fast jets, which flew direct from RAF Marham as part of a coordinated coalition plan to enforce the resolution."
Defence Secretary Dr Liam Fox said:
We made clear that if Gaddafi did not comply with the UN Security Council Resolution 1973, it would be enforced through military action. Our Armed Forces have therefore participated in a co-ordinated international coalition strike against key military installations.
We have launched Tomahawk Land Attack Missiles from a Trafalgar Class submarine and Stormshadow missiles from Tornado GR4s. The fast jets flew 3,000 miles from RAF Marham and back making this the longest range bombing mission conducted by the RAF since the Falklands conflict.
This operation was supported by VC10 and Tristar air-to-air refuelling aircraft as well as E3D Sentry and Sentinel surveillance aircraft.
HMS Westminster is off the coast of Libya and HMS Cumberland is in the region ready to support operations. Typhoon aircraft are also standing by to provide support.
Our capable and adaptable Armed Forces are once again displaying their courage and professionalism. This action has provided a strong signal - the International community will not stand by while the Libyan people suffer under the Gaddafi regime.
And earlier this evening (Saturday 19 March 2011) Prime Minister David Cameron said:
Tonight, British forces are in action over Libya. They are part of an international coalition that has come together to enforce the will of the United Nations and to support the Libyan people.
We have all seen the appalling brutality that Colonel Gaddafi has meted out against his own people. And far from introducing the ceasefire he spoke about, he has actually stepped up the attacks and the brutality that we can all see.
So what we are doing is necessary, it is legal, and it is right.
It is necessary because, with others, we should be trying to prevent him using his military against his own people.
It is legal, because we have the backing of the United Nations Security Council and also of the Arab League and many others.
And it is right because we believe we should not stand aside while this dictator murders his own people.
Tonight, of course our thoughts should be with those in our armed services who are putting their lives at risk in order to save the lives of others. They are the bravest of the brave.
But I believe we should all be confident that what we are doing is in a just cause and in our nation's interest.
Published 20 March 2011